I was thankful to have the 2009 Volkswagen Tiguan as my temporary sidekick over the holidays. My lengthy to-do list included a trip to our local Christmas tree farm, stops at area shops for gifts, and a couple of jaunts to "The City," aka Detroit. These errands led to a week packed with driving in a variety of very wintery conditions, which is something I'd normally dread.

A quick look at the Tiguan's resume let me know that the SEL 4Motion was the perfect car for the job. As a compact SUV, it provided enough cargo space for all of my shopping needs, including the Christmas tree. The Tiguan's smaller-than-average-SUV size helped with its gas mileage, 18/24 mpg city/highway; I'm admittedly difficult to impress on this front and won't bat an eyelash unless a car achieves better than 30 mpg.

The AWD capabilities made all my outings worry-free despite the nearly 12 inches of snow that fell during the Tiguan's tenure with me. Ha! Take that, Scrooge! I'll take your snow-covered, icy roads, and I'll up the ante with a fully equipped VW Tiguan. Now who's bluffing?

No, seriously, this car handled really well. It escaped the slippery slope that is my driveway with ease; it turned through snow-covered corners as though the road were clear and dry. During my test drive with the Tiguan, we had snow, sleet and rain, and I can honestly say that I didn't feel the car slip once. I did enjoy my ride, though I haven't decided whether all this warrants the Tiguan's hefty price tag for its class.

The 2009 Tiguan's exterior slightly resembles a bulldog. Its stocky build tells the road who's boss while maintaining an adorable quality that melts your heart. No matter what type of dirty, slushy, snowy mess I drove through, the Tiguan's fully integrated rocker panels stayed squeaky clean! I loved that! This meant that my kids didn't muck up their coats and pants climbing into and out of the car. Yes! Go ahead, tell your friends.

The Tiguan's compact size turned out to be a saving grace in parking lots because the doors are significantly narrower than typical-sized SUV's doors. In the past I've been the victim of a huge, heavy door hitting either me or the car parked next to me, which always creates a stressful moment. The Tiguan's smaller doors made it easy to get in and out without worry of hurting myself or anybody else. Its heated exterior mirrors and easy-to-use rear windshield wiper also helped make my Tiguan driving experience a true pleasure.

VW tends to load up its cars with fabulous features, but I was disappointed to find that there wasn't an interior or key fob button to close the liftgate. It was so thrilling to watch my kids get into the car without getting messy, but since I had to open and close the liftgate several times, I wasn't so lucky.

SENSE AND STYLE

Family Friendly (Not Really, Fair, Great, Excellent): Excellent

Fun-Factor (None, Some, Good Times, Groove-On): Groove On

Oh, so pretty! With a leather-trimmed interior featuring faux wood accents, shiny instrumentation and an optional panoramic sunroof, the Tiguan's interior should be added to your mental drop-down list of happy places. There were heated seats, and to top it off, the seats were well-sculpted and comfortable. My SEL had a 12-way power-adjustable driver's seat with memory function, and the steering wheel tilted and telescoped, too! The Tiguan provided everything I needed to tailor my driving area to a perfect fit.

An optional feature that I absolutely adored was the updated DVD navigation system with a rear backup camera. This system will add $1,990 to the car's cost, but it was a peach to use and provided a couple of really neat options. When navigating, the VW system allowed me to opt for a split-screen mode with the map on one side and the turn-by-turn directions on the other. Nifty! Also, when moved into "band" mode, the touch-screen combined the presets from a variety of sources all on one screen. I was able to store a few FM stations, one AM station and a couple of my favorite satellite stations all on one preset screen.

The panoramic sunroof deserves some attention, too; the Tiguan's entire roof is literally glass. Open the automatic sunshade, and the whole sky is looking back at you. My kids loved looking up at the sun, stars or even a roof full of sparkling snow. It was an exceptional feature.

As for the kids in the second row, the Tiguan provided sturdy seat belt connectors that they were able to buckle themselves. The booster seats seemed to fit snugly, and the Latch connectors were easy to find. My boys enjoyed the heat vents on the rear of the center console, and they liked opening and closing them at their leisure. I'm pretty sure the Tiguan earned a special place in their memories as well because it joined us on our Christmas tree adventure.

IT'S THE LITTLE THINGS THAT COUNT

Storage Compartments (Puny, Fair, Ample, Galore): Ample

Cargo/Trunk Space (Puny, Fair, Ample, Galore): Ample

This safety sundae is loaded with whipped cream and a cherry on top. You'll get front- and side-impact airbags for the driver and passenger. The first and second rows are equipped with side curtain airbags. Side-impact airbags are available for the second row, and they'll only set you back an affordable $350. The Tiguan also provides added security with its electronic stability system, antilock brakes and Anti-slip Regulation, which prevents wheel slippage.

LIFESTAGE

Diapers, School, Teens? The functionality of this SUV will span all age groups. It has plenty of safety features and a fun-to-drive feel all in one cute-as-a-button package.


---
People Who Viewed this Car Also Viewed
Select up to three models to compare with the 2009 Volkswagen Tiguan.
2007 Volkswagen GTI
Asking Price Range
$4,125–$13,681
Compare
2005 Volkswagen Jetta
Asking Price Range
$2,260–$8,904
Compare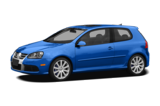 2008 Volkswagen R32
Asking Price Range
$8,765–$19,433
Compare
Featured Services for this Volkswagen Tiguan