Average Ratings
---
128 out of 136 people recommended this car.
---
better read brake reviews
by john from huntsville, al | July 14, 2016
It is common for the brakes to act up and it cost 3000 to have the brake module replaced. Also you have to take it to the dealer just to get the brakes bled, $279. Just keep in mind it is very costly on repairs.
Purchased a new car
Uses car for Commuting
Does not recommend this car
---
Why everyone doesn't own one is a mystery to me
by SHO4CY from Ankeny, IA | April 29, 2015
I bought my 2010 Prius II used about 4 years ago now. Best car I have ever owned period. I bought it with 14,000 miles on it and it currently has 102,000 miles on it. In fact we liked it so much we traded the wife's SUV in on another 2010 Prius IV What I like - Excellent fuel economy (53 mpg summer, 45 mpg winter) - Extremely reliable - Great in the winter (with proper tire selection. The factory original tires were junk for the winter. I did a ton of research on low rolling resistance all season tires as I wanted one that was good in the winter, but did not want to lose my summer mileage. What I came across is the Bridgestone Ecopia EP422 tire. Not only was it low rolling resistance and all season, but out performed many non-low rolling resistance all season tires in winter performance. My gas mileage actually increased with the new tires.) - Very affordable - Adequate power - Low maintenance (Other than the set of tires and regular oil changes, have not had to do a thing. Have not even had to have the brake pads changed, thanks to regenerative braking I'm sure) - Very safe (Excellent crash test scores) - That it is a hatchback. I can fold down the rear seats and fit my road or mountain bike in the back without even removing the wheels. What I don't like - I'm not a fan of the center counsel that flows down to the armrest. Many cars are going to that type of design these days, I'm just not a fan as I'm 6' 2" and would rather have the additional open room. Just a personal preference though, not a deal killer Do yourself a favor and buy a Prius. Sure it is not the most stylish, maybe doesn't have the most options. But it is extremely affordable, safe, and reliable, and since you will only be spending about half the money on gas, you can use all that extra money for your other areas of life!
Purchased a new car
Uses car for Commuting
Does recommend this car
---
Snow driving in Prius
by Phil from New Jersey | April 7, 2015
I own a 2014 Prius 3 the only issue I have with the car is it's not that great of a car in the snow above 5 inches it fish tails like crazy and the Traction Control system is very sensitive in the snow.Other than that it is a gas saver I'm averaging 53 to 57 MPG
Purchased a new car
Uses car for Commuting
Does recommend this car
---
Beautiful Car
by Jo from Woodbridge, VA | July 24, 2014
Ok I also disliked the looks of Prius and never imagined owning one. My boyfriend pushed and last year we bought a Certified 2010 Prius III with Solar Roof, JBLs and Nav and I absolutely love this vehicle. It also fits in any parking space imaginable! :) I have it in Power Mode all the time and STILL average 50 mpg!! It is a sleek vehicle and with the windows tinted looks very sporty. I am extremely happy with this purchase and hope we have the car for MANY years to come. My friend is right now considering a Certified Vehicle and I steered her right to this vehicle! Thanks Toyota!
Purchased a new car
Uses car for Commuting
Does recommend this car
---
Best car ever
by Homey410 from New Albany. IN | July 11, 2014
Overall a great car. I bought this car used, trading in a Toyota Camry Hybrid which got about 37 avg. This car get about 47 mpg avg driving carefully. The car is light and carries less gas and will carry 1000 lbs of weight including passengers. I had 4 people in the car on a short trip and avg 45 mpg, which why i bought it. I has the flat storage area I like and a hatchback rear. The car is very well built, rides good, drives good, feel good, and brakes well. It's not a sports car. When driven in the power mode it will scoot like a normal car. I hope to average 50 mpg with careful driving. My car has teh upgrade GPS and Sirius radio and JBL speakers. It is reasonably priced and very well engineered, but takes getting used to driving a slower car!
Purchased a new car
Uses car for Just getting around
Does recommend this car
---
2010 Prius great commuter car!
by Loyal Toyota Buyer from Danville, CA | May 22, 2014
I have owned Toyota's for over 25 years. I bought a used, certified 2010 Prius II with 33K miles as a commuter car. I must admit that I'm a little spoiled by my family car... a 2010 Toyota Highlander with all the extras. But, this Prius is very economical, fun to drive (sits much lower to the ground than a Highlander or a van), and it has great interior lay-out and fairly good comfort. Because it is parked outside most of the time, I noticed that it is quite hot inside with the angle of the back hatch window. But, I recently had the windows tinted, and this helped a lot with the interior temperature. I am also not overly impressed with the radio/antenna strength, but the speakers are adequate with CD's and the iPod connection. I love my Prius because of the gas mileage, though. Great buy!
Purchased a new car
Uses car for Commuting
Does recommend this car
---
Worth it
by Zen Sailor from Chicago Il. | April 17, 2014
Bought a 2010 Prius 4 with 14,000 miles on it. Averaging 48 MPG combined, BETTER than I thought. Not as slow as I felt it would be, not buying a Prius thinking it's a Cadillac ride or BMW performance. Just good, inexpensive transportation...
Purchased a new car
Uses car for Having fun
Does recommend this car
---
Toyota Prius
by Toyota Bigot from San Jose, CA | February 14, 2014
I bought a 2010 Prius package 5 from a private seller with about 52k miles. I love Toyota's, as my nickname implies, and the Prius is no exception. Great mpg, reasonable seating comfort for all, ample room for storage and very pleasant riding comfort and, hopefully, the overall reliability of the Toyota line. And yes, I do know of a couple of "recalls" for Toyota's but hope the company will take all the necessary measures to maintain their reputation as a leader in the industry. All the controls are placed very well and this package level 5 offers about everything I would want, but, for us old_er folks, it does require some "training" to learn how to use these features. There are a few things about this Prius that could use some improvement, the side view mirrors are smaller and shaped differently, which somewhat obscures visibility, the center console is not what I would consider convenient, the sliding center arm rest/storage cannot be fully closed when a cup is in the holder. The car, when not in power mode, feels a bit sluggish. Overall, I love the 2010 Prius and based on the price for a used car, they definitely hold their value. I also have a 2005 Prius with over 100k miles and have had no major problems with the car.
Purchased a new car
Uses car for Just getting around
Does recommend this car
---
Great on gas but do not expect comfort
by Truth matter from Florida | January 17, 2014
I just bought a 2010 Prius III. GOOD: the car looks pretty good, very good on gas, I will see for reliability. BAD: the seats are very cheap and not comfortable, the interior is very cheap, I am 5'8" , I sat in the back and there is about 1" for me to touch the roof so if you are 6' and more I guess don't sit in the back. People who put 5 stars for comfort probably never drove a decent car in the lives. I bought this car to save on gas and that's about what I will get from this car but that is why I bought it.
Purchased a new car
Uses car for Just getting around
Does recommend this car
---
2010 Certifed Prius
by Petaluma Prius from Petaluma,CA | November 27, 2013
Car is wonderful , like new. Bought from local dealer with only 20K miles. Took a very long time to pay (bought outright) at the dealer for once we decided to purchase this car.
Purchased a new car
Uses car for Transporting family
Does recommend this car
---
People Who Viewed this Car Also Viewed
Select up to three models to compare with the 2010 Toyota Prius.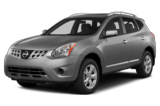 2014 Nissan Rogue Select
Asking Price Range
$12,816–$19,720
Compare
2014 Kia Cadenza
Asking Price Range
$17,086–$26,278
Compare
2011 Toyota Camry Hybrid
Asking Price Range
$8,754–$18,126
Compare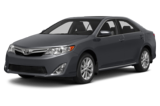 2014 Toyota Camry
Asking Price Range
$12,616–$19,980
Compare
2013 Subaru Forester
Asking Price Range
$13,255–$23,723
Compare
2008 Volvo S60
Asking Price Range
$3,514–$12,906
Compare
2012 Kia Sorento
Asking Price Range
$8,926–$20,690
Compare
Featured Services for this Toyota Prius