Average Ratings
---
44 out of 46 people recommended this car.
---
Best car I've ever owned
by Corolla lover from Detroit, MI | March 21, 2016
I have a 2006 Toyota Corolla model S that I bought brand new. It's got over 350,000 miles on it now, and it runs like it's new. I won't be surprised if it doubles the current mileage. The only problem I've ever had was the original manual transmission. It went out at around 250,000 miles. I replaced it with a new one, and it's back to being perfect now. I would recommend this vehicle to anybody.
Purchased a new car
Uses car for Commuting
Does recommend this car
---
OKAY, lets be real.
by Crazy For My Corrola from | October 12, 2015
I have a 2006 Grey Toyota Corolla. This my first car, got it on my 18th birthday during my senior year of high school in 2011. I'm not sure what my parents paid for it. It was a pre-owned company car and only had 73,000 miles on it. After senior year I started college and the commute was about 28ish miles. San Jose to hayward. I have been doing this commute for almost 5 years 2-3 times per week. Never, not once, has this car broke down on me or shown me any problems. I have drove it to San Diego 2x and I have drove to LA once. Extremely reliable. I get great highway mileage and better MPG then everyone I know, literally. $40 in the tank and it's full :) I take great care of my car as I want it to last a long time. This has maintained the cars great stability. Anytime something needs working, breaks,pumps, belts, etc. I take care of it right away. I now have 160K on it and it still runs like the first day I got it. I have been going to the same mechanic since I got my car. He explains to me that my car is in great condition. Especially for a college student that drives all over the place. I put miles on my car. At least 250 per week. If you are looking for a car for first drivers, a college student, or a traveler this is the one. It's economically efficient and MPG is great!
Purchased a new car
Uses car for Just getting around
Does recommend this car
---
2006 Toyota Corolla S
by rnorred1986 from | September 9, 2015
This was the first car I ever bought with my own money 10 years ago. Bought it brand new fully loaded in silver. I drove it for 5 1/2 years & 42k miles with no problems. I sold it 4 years ago cause it got too small for me & I needed a bigger car, so I bought a used 2007 Nissan Altima which was a nice upgrade, but had some problems & now I'm back to Toyota this year with a new 2015 Camry! I'm planning to buy Toyota's for the rest of my life!
Purchased a new car
Uses car for Commuting
Does recommend this car
---
It's a Toyota, what more needs to be said!!!
by Far North from Now in AZ!! | March 20, 2015
We leased a 2006 Toyota Corolla S, again fantastic Toyota car. Came with all kinds of bells and whistles and all we ever did was change oil and filter. Two sets of tires, one battery, DONE. Put 116,000 miles on it and sold it. Wish we still had it by moved out of State and had to decide which vehicles to sell and which to keep.
Purchased a new car
Uses car for Work
Does recommend this car
---
Worst car ever
by Fasteddy from Toronto | December 9, 2013
2006 Corolla; toyota used certified. The car needed brakes after 7000 km , the dealer install new pads and shoes on worn out rotors and drums, the dealer did nothing because brakes are not covered under the warranty , they also have major computer problems which will negatively affect your transmission and engine. Do yourself a favour and look at another car . They do not get the mileage stated this car consumes 10L/100km. Stay away from Toyota .
Purchased a new car
Uses car for Just getting around
Does not recommend this car
---
Best Car For The Money - EVER!!!
by Desert Red - New Mexico from | November 30, 2013
My 2006 Corolla SE is the only car I have ever bought totally brand new - and I still love it! It is the best car ever made in the good ol' USA. It was manufactured by Toyota in California - the best of both worlds. It now has 146,000 miles and showing much less wear than me. I haven't even replaced the brake pads yet, much less the rotors. I just came back from a 800 mile trip and got my usual 41 mpg. There have been times with a tail wind and summer blend gas that I've gotten 48 mpg! My only complaint is that if my wife sits in the passenger seat she has a back ache after long trips. But since I drive it alone 90% of the time, I won't mark it down for this. I dread having to replace it (Toyota has since closed their Fremont, California plant), but then again I fully expect it to last another seven years. I hope I last as long!
Purchased a new car
Uses car for N/A
Does recommend this car
---
My first Toyota
by David from Bakersfield CA | November 26, 2013
Was looking for a reliable car and found it in the Corolla. Did extensive research before buying, no impulse. Get 40mpg plus on long trips, a good blend of power and economy. Test drove a 2014 and no way, will keep my 2006 until the wheels are square so to speak. 100% satisfied.
Purchased a new car
Uses car for Just getting around
Does recommend this car
---
Pleasantly surprised
by Grumpy Senior Citizen from Carson City, NV | November 5, 2013
Bought this 2006 Corolla CE in August of this year. It was elderly driven and had only 15460 miles on it. I have always driven trucks and SUV's but needed something more economical for frequent trips from Reno to the Bay Area for medical reasons. Never had much use for a sedan type vehicle but couldn't pass up the deal. Quite a bit of road noise, not much in the get up and go department but seems to handle well and gets phenomenal mileage! No Rolls or Ferrari but quite serviceable and even somewhat fun to drive! Wish it was a wagon but no problem. It has a couple of glitches in the computer but my friend is a Toyota service manager and he is helping me with that. Great little car!
Purchased a new car
Uses car for Just getting around
Does recommend this car
---
Value for money vehicle
by Allan Car lover from London, UK | September 20, 2013
Hi, Much recommended for those who prefer better mileage and stability. It is worth the price tag attached. Good interiors and durable body. I'm happy with the car. :)
Purchased a new car
Uses car for Commuting
Does recommend this car
---
A really reliable low cost high performer
by practical fun loving driver from south Orange County,CA | January 28, 2012
In late November, 2011, we bought a 2006 toyota corolla with only 36,000 miles on it. the car runs very well. it has great manuverability. it gets 28 miles to the gallon on regular gas. although i am used to driving 8 cylinder engines, this 6 cylinder has really good power, and it does not strain like many of the 4 cylinders i have heard. the car is well balanced on its wheelbase so handling is excellent. brakes are firm and stopping the car in an emergency is not a problem. the windows are designed in such a way that the driver has excellent visibility front, sides, and rear. the exterior paint job is still in really good condition (looks new) except for a few dings and scratches. the interior, while not luxurious, is attractive, instruments well positioned, and seats are comfortable. it has a good sound system and a 1 cd player, radio works very well. all in all, a winner!
Purchased a new car
Uses car for Commuting
Does recommend this car
---
People Who Viewed this Car Also Viewed
Select up to three models to compare with the 2006 Toyota Corolla.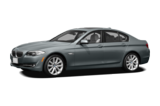 2011 BMW 528
Asking Price Range
$15,105–$26,069
Compare
2013 Ford Taurus
Asking Price Range
$9,487–$24,371
Compare
2004 Chevrolet Impala
Asking Price Range
$918–$7,646
Compare
2004 Nissan Altima
Asking Price Range
$1,510–$7,606
Compare
2005 Toyota Camry
Asking Price Range
$3,129–$9,933
Compare
Featured Services for this Toyota Corolla