For six generations--that's 26 in automobile years--Toyota's Celica has been the little rascal of the litter. The 1994 Celica only adds to that aura and cheeky allure. The car remains small and pert, not quite a red-blooded sports car, certainly no tame, two-door variant of a family sedan, but a lively, sporty, friendly coupe built for those who like to let a car romp in its sneakers once in a while. Celica's lines are completely fresh and quite daring. Its combination of inset, lightly flared, doe-eyed and bull's-eye headlights is borrowed from the Lexus SC300. The rounded roof line and sides, and slightly puffed-out rear end comes from the all-potent Supra. The message here: If you have to crib, always go for the most appealing features and keep it in the family. There are two four-cylinder engine packages in the lineup--a 1.8-liter developing 110 horsepower for the base Celica ST, and a 2.2-liter good for 135 horsepower in the more gymnastic GT. Driver and passenger-side air bags are standard on both models. Anti-lock brakes are an $825 option. If the Celica GT were a pizza, everything on it would include optional cruise control, leather trim package, 15-inch alloy wheels, power moon roof, eight-speaker sound system with equalizer and diversity antenna, rear spoiler, and a buttoned-down suspension for more serious road work. Plus, of course, Toyota reliability that each year comes closer to resolving the theory of perpetual motion. So what is wrong with this picture of good looks and healthy technology? Price. In recent months, the dollar has bashed the yen senseless. The Celica--unlike portions of Camry and Corolla production--is manufactured entirely in Japan. So while domestic builders are raising 1994 prices by $400 or less, stickers on 1994 Celicas will be between $1,500 and $1,800 higher. Also, Toyota's options are typically a smidge more expensive than the competition--air conditioning, for example, in a Celica is $975 versus $850 in its archrival, the Mazda MX-6. So although a base model Celica ST sounds within budget at $16,508, a few basic goodies--such as air conditioning and anti-lock brakes--will easily ring up the price to $21,000. Even young bloods with more hormones than sense might have trouble justifying $18,898 for a Celica GT--rapidly inflated to $24,719 by options and primarily three items: air conditioning ($975), premium sound ($1,200) and sport package ($1,565) with its leather-faced seats, stiffer suspension, and more floggable tires and wheels. And there still is no V-6 engine--unlike the heavier, quicker, roomier Ford Probe and Mazda MX-6. * But let's not dismiss Toyota so easily. For there is the definite lure of Celica's engineering quality, full attention paid to tight assembly, and the discernible superiority of Toyota mechanicals. Solid systems produce veracity of handling, a confidence that no matter what is asked of the vehicle, no matter the emergency action or driver reaction, the car likely will not fail and will do its best to sort things out. Such depth of quality is measured by subtleties. How solid the closing of doors with no latch rattles, window clatters or similar aftershocks? How true the touch of turn signals or the lack of slop in cranking down windows? In such matters, Toyota has all the answers. We drove the potent GT and tamer ST, both with five-speeds because automatic transmissions muffle the feel of a car better than stroking the cat in oven mitts. No doubt about it, the GT is a two-place roller skate, a greased dodgem in traffic. The ST is milder, but not by much. In fact, bearing price differential in mind, we seriously doubt the GT's quicker acceleration and equipment upgrades are worth the extra $2,390. Wrap-around interiors--cockpit style with the hefty center divider of onsole armrest and gearshift table--are identical. It's cuddly inside, maybe a little too snug for those broad of beam or tall of torso. But the placement of instruments and manual controls, improved visibility, the range of seat adjustment--complete with height settings--and the grip of those chairs are high examples of maximum consideration for those who must occupy or will be slung around inside this vehicle. Except for back seats. Like all sport coupes and 2+2s, they are upholstered dents. One adult, sentenced to sprawl across both, didn't stop complaining from Encino to LAX. The Celica comes as notchback or hatchback. Both rear openings are effortless and the baggage room is larger than one would expect in a sport coupe. But lift-overs are thigh-high, which isn't overly polite. On freeway and highway, the Celica ST is not likely to bring fear to the eyes of Mustang GT owners. But in the hands of the capable, the car's agility in maneuvering around traffic and darting through diminishing gaps more than makes up for any lack of flat-out dead-straight power. Brakes grab as they should. Setting up for corners and powering through them brings a tell-all response from the steering. Shifting has been smoothed out, not to the point of being a glycerin vacuum, but with enough resistance to allow a feeling passage through the gears. The ST's initial acceleration, with zero to 60 m.p.h. times in the low nines, is not as limp as one might expect from a base model. But there's a tendency for power to peak early and maintaining rapid, jinking progress over the asphalt requires a fair amount of dexterity with the gearbox. Much of the road and engine noise associated with earlier Celicas has been dampened. But once you put spurs to that relatively small twin-cam engine, the mechanical gnashing starts and it certainly is loud enough to intrude on conversational moments. Although not an object of cardinal value, this is a pleasant, well-behaved car that in caring hands will deliver incessant fun. So it has always been with Celica. 1994 Toyota Celica GT The Good Energetic performer, a blast to drive. Toyota quality and reliability. Distinctive styling, inside and out. The Bad Sticker shock. A little cozy for big people. The Ugly Wheel covers from plastic hell on ST model. Cost Base, $18,898. As tested, $24,719. (Includes dual front air bags, anti-lock brakes, power windows and locks, cruise control, air conditioning, leather-faced seats, eight-speaker sound system, sport suspension, alloy wheels and rear spoiler.) Engine 2.2 liter, 16-valve, in-line four developing 135 horsepower, reduced to 130 horsepower by California emissions controls. Type Front-drive, three-door hatchback sport coupe. Performance 0-60 m.p.h., as tested, 8.8 seconds with fiv e-speed manual. Maximum speed, estimated, 125 m.p.h. Curb Weight 2,415 pounds.
---
People Who Viewed this Car Also Viewed
Select up to three models to compare with the 1994 Toyota Celica.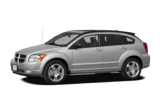 2012 Dodge Caliber
Asking Price Range
$7,927–$14,143
Compare
2014 GMC Sierra 1500
Asking Price Range
$23,303–$45,595
Compare
2008 Ford Focus
Asking Price Range
$3,611–$9,867
Compare
2008 Nissan Maxima
Asking Price Range
$4,067–$14,787
Compare
Featured Services for this Toyota Celica