Average Ratings
---
15 out of 17 people recommended this car.
---
First Car
by Alex from | October 17, 2014
I've owned my 96 Camry LE V6 for a year and a half now, it is my first car and I am very satisfied with the car! Engine, transmission and interior make it for a very quiet and comfortable ride. Suspension if very soft and it soaks up a lot of the bumps in the road if you like that. I have driven this car in the winter and it always started in the -40 temperature in Montreal. Very good winter car, heat and defrost functions work very well and hear will not make your throat dry like some cars. This car is exceptionally fast for a 19 year old car, the engine still has plenty of potential. What I don't like about the car: Very soft suspension, I would like a much harder ride but that's just me. Brakes also are not as powerful as I would like but then again, they work just fine for normal driving. Overall I am very impressed with this car and would not sell it. I am keeping this car until it can no longer run. I have driven other cars and they always make me miss my Camry! It will be a very sad day when (if) it doesn't run anymore but I can't see that happening any time soon!!
Purchased a new car
Uses car for N/A
Does recommend this car
---
excellent car
by vf-guy from Phoenix, AZ | June 17, 2014
I purchased this car in 2008 with 93,000 mile on it for $1500. It was in good shape, but had some electrical issues that needed to be sorted out. The wiring harness that goes through the front drivers door had some broken wires and I believe the seller just didn't know how to deal with it. I've put about $2000 into the car including the following: wheels, tires, brakes, timing belt, water pump, radiator, cat-back exhaust and miscellaneous items. Most of the work was done myself. The car now has 128,000 miles on it and is extremely reliable. I still have a few things that need attention like a leaking fuel injector and a bad contact in the fuse box that I need to take care of. It could also use new struts and springs, but the parts for these cars are extremely cheap. It's pretty easy to work on, although replacing the timing belt is not fun with the tight clearance to the engine compartment. I drive 52 miles each day round-trip to work with about 1/2 highway and average about 27-28 mpg. The best mileage the car achieved was 34mpg on a long-distance trip with one passenger and about 300 pounds of cargo. The car is cheap to insure and register. It is relatively quiet and is very comfortable to drive. It has a reasonable amount of power for a 4 cylinder. I do find that I prefer to leave the automatic transmission in "power" mode as it moves the shift point to a higher rpm. It shifts closer to what I would do with a manual transmission. I don't do jackrabbit starts by any means so this is the best acceleration/economy setting. The Camry might not be the most glamorous car, but it's cheap, comfortable, and most importantly, reliable transportation around.
Purchased a new car
Uses car for Commuting
Does recommend this car
---
LOOOOVE THIS CAR!!!
by Camry Lover from North Carolina | April 22, 2013
I just sold my 1993 used Camry identical to this one. I love everything about. It is great on gas and I got me everywhere I needed to go. When I got it had 93,000 miles on it. I sold it 130,000miles. I just wanted to get a more recent year. I recommend this car to a friend.
Purchased a new car
Uses car for Just getting around
Does recommend this car
---
Power, Smooth, Class
by Slots from Alhambra CA | January 11, 2013
I bought it brand new. All I had to spend money on was tires, brakes, air filter, and other low cost necessities. Right now at about 150,000 miles, it was time to sell. No pricey repair was done. The transmission and engine is still strong. Oil is change every 5,000 miles because of full synthetic. Every 30,000 miles the radiator is flush with O.E. red antifreeze, replacing upper and lower hoses and not to mention the replacing the thermostat. The transmission service is done with Toyota Type 4 fluid, new pan gasket and new filter.
Purchased a new car
Uses car for Commuting
Does recommend this car
---
Best first car ever
by CCP from Escondido CA | December 23, 2011
Though i found the price way high it was the best investment i could have ever made buying my 1995 Toyota Camry LE. Drives amazing i bought it used with 95,000 lucky find and amazing compaignen. I love my car and I'd def. recommend you to spend that extra cash and get you 16-18 year old a Camry amazing also on gas !
Purchased a new car
Uses car for Having fun
Does recommend this car
---
Best Car I've Owned
by JMF from Lexington, KY | November 1, 2011
I bought my 5-speed manual 1995 Camry Coupe in 1997 off lease and it has been a great car for the past 14 years. It's fun to drive, comfortable, roomy, sporty-looking, and reliable. The only major repairs (all when the car was over 15 years old) have been to replace the radiator (had a hole in it), exhaust system from catalytic converter back, and some brake and fuel lines due to rust. Never even needed a brake job and I still have the original clutch at 118,000 miles. Even the battery lasted 12-13 years. Drove my good old Camry on a 240 mile trip last week and it still runs and drives great. My only minor complaint is that the leather seat upholstery was not especially durable. I wish that Toyota still made this car. They have even discontinued the Camry Solara, which was its successor, and they don't make many Camrys with stick shifts any more. The new Camrys aren't bad but I prefer the coupe and the stick shift.
Purchased a new car
Uses car for Just getting around
Does recommend this car
---
excellent first car!!
by n-conf from York, PA | August 29, 2011
I was given this car by my dad for my first vehicle. It had about 150,000 miles on it, still it ran extremely smooth. I have now had it for 4 years and have maintained it every 5,000 miles just like my dad did. It now has 206,000 miles and no major problems. EXCELLENT car... i predict new brakes soon but i have never had to change them so i suspect that's to be expected. Great car and extremely reliable
Purchased a new car
Uses car for Commuting
Does recommend this car
---
First & Only Car...
by t-girl from Hershey, PA | June 13, 2011
My 95 Camry is at 201,000 (!!) miles now & I'm STILL driving it 1 hour commute to work one-way, so that's 2 hours a day total. That alone proves the quality and durability of this make and model. MPG is a little low (I have to refill 2x a week) plus this is probably because the engine is much less efficient than it was in its prime years. However, engine is still smooth, has never sputtered or rattled in its life. People who ride in my car say they can't even tell the engine is running. A little weak going uphill and accelerating now, but this is expected from a 16 yr old car. There have also been some electrical issues (i.e. some of the lights on the heat/air dial have flickered and turned off temporarily as well as the parking brake light staying on). As long as the owner maintains the car by changing oil, making sure fluids are checked, brakes, timing belt, etc... this car should have no problems at all. As with any car, if these issues are not addressed in a timely manner, the problems will compound and cause other chain-reaction problems. If Toyotas are taken good care of, they will never fail you.
Purchased a new car
Uses car for Commuting
Does recommend this car
---
i test drive the car
by dada from st loius | July 6, 2010
its a good car,1995 but still feels brand new,im looking for something reliable like this but small for my college son,if u have that cash grab it its a good car
Purchased a new car
Uses car for Work
Does recommend this car
---
95% perfect
by dipstick from phoenix | August 26, 2009
Still amazed at how well this vehicle drives after 165K. Wear and tear items are all you ever fix.Reliable.Supreme value for what I have paid.Love this car and it treats me well.Looking for250K or better!!
Purchased a new car
Uses car for Commuting
Does recommend this car
---
People Who Viewed this Car Also Viewed
Select up to three models to compare with the 1995 Toyota Camry.
2010 Honda Accord
Asking Price Range
$7,744–$15,956
Compare
2013 Lexus GS 350
Asking Price Range
$23,709–$37,001
Compare
1996 BMW 740
Asking Price Range
$4,079–$5,367
Compare
2016 Chevrolet Trax
Starting MSRP
$20,300–$26,730
Compare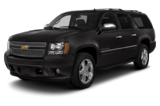 2014 Chevrolet Suburban
Asking Price Range
$27,577–$49,733
Compare
Featured Services for this Toyota Camry