Toyota could take a unique approach to selling the new Camry wagon. It could make them all white, put a bar code on the doors and a big sticker on the hood that reads CAR. Generic - that's the Camry wagon. Make no mistake about it, though, the Camry wagon does nothing wrong. It's designed and assembled well, and it adheres to Toyota's high standards of quality. But the car lacks a distinct personality and has no soul. If you prefer a sedate car that asks nothing of the driver, then you'll like the Camry wagon. However, I prefer a car that doesn't remove me from the experience of driving. The engine purrs more like an electric motor. It makes so little noise and vibration, one is tempted to open the hood to verify its existence. And the conservative styling could lull to sleep a herd of stampeding elephants. Volvo has found there is a profitable niche for safe, conservative wagons so maybe the Camry will find a spot in the garages of wagon-driving import-oriented car buyers. The Camry wagon is built in Toyota's factory in Georgetown, Ky. However, the Camry is not considered a domestic car because it does not have at least 75 percent of its parts manufactured in the United States. PERFORMANCE Is there is such a thing as an engine that is too smooth and too quiet? Driving the Camry is like being encased in a wheeled metal cocoon. You get little feed back from the drivetrain. You don't hear it rev up, and you can hardly feel the four-speed automatic shift up or down through the gears. The downside of that is, without realizing it, you can quickly reach 80 mph. A 185-horsepower, 3.0-liter V-6 is standard in the LE, and it provides plenty of power. Performance is excellent for a wagon. Loading it with four adults did nothing to reduce acceleration. On a trip from Orlando to Ocala and back, about 140 miles, the test car, a fully-equipped model, turned in a commendable 27 miles per gallon. HANDLING The front-wheel drive Camry requires very little effort of the driver. Power-assisted rack and pinion steering is standard equipment. Response is fairly sharp, and the turning radius of 36.7 feet is decent for a wagon. The four-wheel anti-lock disc brakes are adequate. And the independent suspension system keeps the car under control in a predictable manner. Road noise? It's non-existent. Bumps? Only the violent jarrings of uneven dirt roads or those caused by deep potholes find their way to the driver. For some motorists, part of the joy of driving is the interaction among the car, the road and the driver. The Camry removes all that and reduces driving to little more than simple reflex actions. To put it simply, driving the Camry wagon is no more enjoyable than steering a vacuum cleaner around living room furniture. FIT AND FINISH I believe Toyota vehicles are the best in the business in terms of the way they are assembled. The Camry LE wagon is no exception. Toyota engineers have car-building down to an art. The Camry's parts fit together tightly and stay that way. The design and layout of the instruments, switches and controls are simple, logical and user-friendly. You can operate all the features of this car without ever having to crack open the owners manual. The test car came with a comfortable set of cloth-covered bucket seats. The middle bench seat could (and did) hold three passengers in reasonable comfort. Behind the middle seat is a cargo area that's big enough for half a dozen or so grocery bags or three suitcases. The cargo area contains a fold-away jump seat that can accommodate two small children. At $24,000 and change, the price seems high when compared to Ford and General Motors wagons, which are larger and cost less. Toyota has given the LE a plethora of power accessories. You get power windows, mirrors, door locks and a sunroof. There s a CD player and first-rate AM/FM radio. There are two wipers and a washer on the tailgate, a nice touch because the two wiper blades cover a large portion of the window. If only Toyota could find a way to give the Camry a bit of character, it could be a great car. I would trade a few of its many good points for a little naughtiness, a little less predictability. Truett's tip: The Camry wagon is well-built and easy to drive. It's versatile and roomy. And it's also something else: boring.
---
People Who Viewed this Car Also Viewed
Select up to three models to compare with the 1993 Toyota Camry.
2008 Lexus GS 350
Asking Price Range
$10,406–$20,754
Compare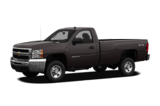 2010 Chevrolet Silverado 2500
Asking Price Range
$10,528–$39,616
Compare
Featured Services for this Toyota Camry