And now, "A Tale of Two Grand Ams": "It was the best of cars, it was the worst of cars." No kidding. Truth be told, the two Grand Ams in question - the sportier GT model and the standard-issue SE - were like Cain and Abel, Yin and Yang. One that's hot, one that's not. The Grand Am for '99 is Pontiac's completely redesigned sport compact, a budget-priced coupe or sedan that vies to uphold the marquee's "excitement division" reputation in the General Motors paddock. Yes, you do get a lot of car for the money. Stylish bodies, well-furnished interiors, dynamite stereo systems and enough panache to help attract members of the opposite sex. Aimed at the hearts of under-30 drivers, male and female, the Grand Am is affordable enough to be a reasonable longing. Even J.D. Powers, the high-profile arbiter of automotive quality, favors the Grand Am, bestowing upon it the APEAL award as the most appealing entry-level midsize car. I, on the other hand, thought the SE sedan was just OK, and then only if you don't mind a rubbery suspension, vague steering, mediocre engine power and plastic interior parts that seem ready to fall off. Worst of all, I found the SE to be boring to drive, not exciting, as one might expect from the excitement division. After my pleasant experiences last year with the new Grand Prix, I was highly disappointed by the Grand Am's lack of spirit. So I complained to the Pontiac people, who were hurt and confused by my lack of appreciation for a car the division had worked so hard to update, and which is such an important part of its product line. A Pontiac flack told me the SE model was a softer approach to sports coupes and sedans, one designed to appeal to women, as shown through a number of focus groups. It provides the comfort and ease of operation of a compact car coupled with sporty road manners for driving fun. I must have missed the sporty-road-manners part. Saying that the brand-new GT version would suit me better, the Pontiac people sent out a GT coupe to test. It's comparably priced to the SE but with tighter steering, stiffer suspension and greater responsiveness all around. The GT is the guy car, they said. And the GT is indeed a car I could deal with. Even like. The suspension was firm, not mushy, and the steering felt direct and connected, not vague and too light to the touch. With just five more horsepower, the GT engine felt noticeably stronger, though still fairly raucous under acceleration. Even the transmission shifted more precisely. The GT handled nicely, with decent road feel. And it was fun to drive, which is what I thought a Grand Am was supposed to be in the first place. So what am I to conclude from this? That the guy car is cooler than the girl car? Now, that seems like a rather backward notion in this age of equality. Besides, most of the women I know like cars that drive as well as the GT, not as poorly as the SE. My wife, for instance, who concluded independently that the GT was hot and the SE was not. Either version is available in a two-door coupe or four-door sedan, which are the exact same size, with the sedan providing the advantage of back doors. The interior in either version is comfortable and roomy, with enough space in the back seat for regulation-size humans. The interior styling is modernistic, with a dashboard shape that consciously calls up past sports-car forms, with gauges and air-conditioning ducts each raised in a round hump. It works as such and should appeal to its young audience, but it's a bit over-the-top for me. The exterior styling is suitably aggressive and sporty, Pontiac-style, with contoured lower-body cladding giving it a broad and purposeful look. The Pontiac flaring-nostril grille is strongly pronounced, and the whole body seems to be bulging with muscle. The rear-deck spoiler is atrip. Instead of the usual flat, contoured shape, this one has a pair of raised, aerodynamic-lo oking pr otrusions on either side that look suspiciously like tail fins. In the rearview mirror, they look exactly like tail fins. The Grand Am is sure to make quite a splash in the broad pool of sporty compacts. No one can beat the price for these well-equipped, personable cars. A less-expensive model can be had with a 150-horsepower, four-cylinder engine. For '99, all Grand Ams have automatic transmission; stick shift is expected to be offered next year. The GT version is greatly improved over previous Grand Ams, though the SE fails to move the ball forward in any fashion. Guys will like the guy car, but girls should prefer the guy car, too. 1999 Pontiac Grand Am Vehicle type: Five passenger, two-door coupe (sedan), front-wheel drive. Base price: $19,070 ($18,970). Price as tested: $19,745 ($19,900). Engine: 3.4-liter V-6, 175 (170) horsepower at 5,200 (4,800) rpm, 205 (195) pound-feet of torque at 4,000 (same) rpm. Transmission: Four-speed automatic. Curb weight: 3,050 (3,116) pounds. Length: 186.3 inches. Wheelbase: 70.4 inches. EPA fuel economy: 20 (19) city, 28 highway. Highs: Good value. GT's driveability. Interior space. Lows: SE much less appealing than GT. Weird spoiler.
---
People Who Viewed this Car Also Viewed
Select up to three models to compare with the 1999 Pontiac Grand Am.
2011 Dodge Journey
Asking Price Range
$7,744–$18,220
Compare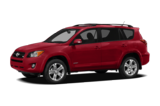 2011 Toyota RAV4
Asking Price Range
$10,676–$21,340
Compare
2009 Chevrolet Cobalt
Asking Price Range
$3,111–$9,867
Compare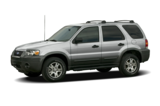 2005 Ford Escape
Asking Price Range
$2,406–$9,262
Compare
Featured Services for this Pontiac Grand Am