Average Ratings
---
21 out of 37 people recommended this car.
---
A bit touchy.
by Frustrated Owner from | August 25, 2016
This car is absolutely amazing when it's up and running! I bought one withat 125k on it and it's in excellent shape, the upgrades that come with the SL were worth it. The only draw back is the absolute monstrosity under the hood. I've caught wind of awful CVTs but I didn't know they were all made that way. I've already changed the crankshaft sensor and positioning sensor (the former being a notorious issue with the car, but an easy fix) not to mention the valve cover. Not very reliable but good for a cheap beater car to get you around or, as an okay first car.
Purchased a new car
Uses car for Commuting
Does not recommend this car
---
So far so good...
by Nissan Fan from CA. | July 12, 2015
I purchased this car even if I knew about the problems everyone was posting online about engine and exhaust system. I would have preferred an 03-06. But I took a chance with this 02 V6 SE model with 150,000 mi. The V6 model had less often problems to the 4 cylinder. I like the feel of the ride, comfort inside was nice, good power, interior and exterior style is very nice, it came with aftermarket rims and tires, engine runs smooth. No leaks in the oil cooler or oil pan. The only bad thing I saw was a little very slight leak in the main transmission seal under neath. A friend mechanic said if it was a very large leak don't buy it. But I should expect this at a high mileage and older year model. So just keep an eye on the fluids, so I haggled the price down. Just drove it a few hundred miles so far. So I'll post a later update in the near future on the car....
Purchased a new car
Uses car for Just getting around
Does recommend this car
---
Well made
by Son from NY | June 4, 2014
Pushing 180k. This car stood up well to my abuse. I get regular oil changes, two batteries and basic maintenance for breaks. Over the years, AC died, fuel line Vacuum leak, and struts are shot. No other repairs on the car at all. I have never even had a regular tune up. I did get the belt replaced once. Spark plugs and wires are original. This is a well built car
Purchased a new car
Uses car for Work
Does recommend this car
---
always been a good car
by critterferris from | October 29, 2013
I have had this cars for years now. I got it used from a snell dealer ship in Mankato i am shocked to see so many bad reviews on it. mine has a 2.5 in it with over 218 thousand on it and i have never had anything major happen to it i have just did my oil changes and did all the maintence on it and she has always ran strong. all cars break down some time. It just depends on the way you drive it and take care of your car. one thing i found weird was my crankshaft sensor went out on it and when i got it fixed it had a 3.5 engine crank sensor not a 2.5 sensor in fact the 2.5 sensor didnt even fit? any feed back on why thats why that is?
Purchased a new car
Uses car for N/A
Does recommend this car
---
Dissatisfied!
by Kmm12 from Edmonton, ky | October 20, 2013
I bought my 02 Nissan in 2012 and fount out very quickly it was burning oil. I kept dumping oil in it until she finally blew. My husband was driving it to another city for work around 50 miles a day and I was buying 4 quarts a week. Blew black smoke like crazy. Valves chattered and got really weak. Bought with 145k on motor and it blew and just died with 162k. I've tried and tried to find another motor but I've learned from 02-05 engines all are just not good motors. When I call to ask about one they want 1200-1600 dollars for them. Do not buy these vehicles. It's a bottomless money pit. It's been one thing after another with it. If I didn't owe on the car, I wouldn't bother fixing it, I'd take to a junkyard and scrap it. JUNK JUNK JUNK!
Purchased a new car
Uses car for Work
Does not recommend this car
---
most reliable car
by asap from boston,ny | April 13, 2013
i wanted this car for some years now....the car seems to never look old (exterior or interior)so i would really recommend this car on my behalf p.s.it drives smoothly
Purchased a new car
Uses car for Just getting around
Does recommend this car
---
Surprised
by Me from California | June 28, 2012
I am very surprised to see so many bad comments on this car. Bought mine new off the lot and have put 120k miles on it so far with no sign of a problem. I bought it because I had owned a 94 that I put nearly 400k on. Yes you read that correctly and yes it is in US miles. In those miles all I had to do was replace a broken engine mount (broken in a minor parking lot fender bender) and replace a water pump (the only common problem on the 94). Besides good reliability mine has iPod connectivity which is very ahead of the time and good mpgs (about 33 hwy). Again very surprised to see so many problems, I have had nothing but good cars from Nissan and will buy a new one as soon as they ditch the CVT transmission.
Purchased a new car
Uses car for Commuting
Does recommend this car
---
worst car ive owned
by Nissen hater from Massachusetts | March 28, 2012
Recently bought the car with 120,000 miles on it and it had all sorts of problem to make the story short engine blew dont recommend
Purchased a new car
Uses car for Transporting family
Does not recommend this car
---
A disaster car
by Tony from Apple Valley, MN | March 28, 2012
I alway drove Nissan, and bought this alitma hope this one to last longer. At 100K miles the engine failed. I read about their engine problem before on consumers report, but my previous exprience with Nissan was great, and I ignored those comments. The sad thing is that car looks great and has good performance, but the engine stinks. A STRONGLY Advised not to buy this car.
Purchased a new car
Uses car for Commuting
Does not recommend this car
---
Head gasket/engine failures are common before 100K
by Learned the hard way from CT | March 26, 2012
First of all I bought my 2002 altima in 2006, it was a great car, very comfortable, very peppy, great gas milage! However 6 years later at only 90k the headgasket is on it's way out. Looking online I found that this is very common for either headgasket or engine failure to occur before 100k. Nissan has been seeing this issue since the cars were new and under warranty but did nothing to correct the issue until after 2005. And if you had issues outside of warranty they wouldn't help at all (even under warranty it looks like a hassle) The 2002-2005 has the honorable spot of 18th worst car on carcomplaints (look up on google) The 2002 leading that year range. Just be warned that the 2002-2005's are potentially ticking time bombs, be very wary of buying a used one as the symptoms of failure are often slow onset and would be missed by most mechanics.
Purchased a new car
Uses car for Commuting
Does not recommend this car
---
People Who Viewed this Car Also Viewed
Select up to three models to compare with the 2002 Nissan Altima.
2002 BMW 530
Asking Price Range
$2,351–$9,431
Compare
2012 Lexus IS 350
Asking Price Range
$19,344–$31,600
Compare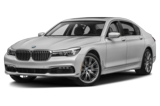 2016 BMW 740
Starting MSRP
$81,300–$81,300
Compare
2003 Audi A8
Asking Price Range
$2,966–$7,266
Compare
Featured Services for this Nissan Altima