Average Ratings
---
15 out of 15 people recommended this car.
---
Best Large Sedan Out There
by Mercedes Fan from Omaha Nebraska | July 3, 2014
I bought the car new when I got an unexpected bonus. I had been looking at BMW 750, but it didn't have 4 wheel drive which I needed. Also looked at the Audi, which was quite nice, but in the end I decided to pay the extra money and get my "dream car". I haven't been disappointed. Ride, luxury, handling, road noise and comfort are all as good as it gets. It is a little confusing getting used to all the controls, but once set, everything works fine. It handles better than expected for such a large vehicle and the turning radius is very good. The main negatives are the relatively high initial cost. Make sure you have good tires and it will handle really well. The 4 matic is really good as it easily handles snow with any decent set of tires. I recommend using 4 snow tires even with the 4 wheel drive if you live in snow country. The seven speed transmission is just wonderful. My only regret is that I couldn't afford the s63 upgrade with the turbocharged engine. 385 horsepower is pretty good for most cars, but for this particularly heavy sedan, a little more would have been nice. The new ones are very similar, have turbocharged engines and are up to 425 horsepower which is definitely noticeable, but to save alot of money, get this car. You'll love it.
Purchased a new car
Uses car for Commuting
Does recommend this car
---
Turns Heads, but leaves something to be desired.
by Summer Dreamer from New York | June 6, 2014
I've owned many S class Mercedes over the past 25 years beginning with my first new Mercedes - a 1991 350SDL. Mercedes has certainly advanced over the years in many ways - power, handling, styling and speed. An S class is always sure-footed and predictable even in the tightest of corners. Its' front bucket seats with both heating and cooling elements are typically more comfortable than most living room seating. 4Matic was a welcome addition many years ago and it does not detract from its handling in the least. For those who care, gas mileage is spot on predictable regardless of how fast you drive, although it gets slightly better mileage at super low speeds. In short, you and three of your closest friends or family members can sit comfortably for hours without fidgeting. However, not all is good news with the S class. The electronics will take longer to learn than Mandarin Chinese - I leaned how to play a dvd movie on the navigation system before I could figure out how to set the clock. The S class has become big and bulky and can at times feel sluggish even with 384 horsepower. The car can be expensive to maintain, although it is worth every penny as it is more reliable than any family member. In short, if you can afford a new luxury car, or even a slightly used one, you will not regret purchasing an S class Mercedes. It is heads and shoulders among any of its competitors, including BMW, Porsche, Jaguar and even some more expensive brethren including Aston Martin. Good luck and enjoy - you only live once and it's a terribly short at that.
Purchased a new car
Uses car for Just getting around
Does recommend this car
---
S63 amg
by Ukos from Roseville ca | June 15, 2013
The s63 AMG is the best car,performance, comfort ,Exterior styling, interior design , comfort and the best it's a exhaust sound
Purchased a new car
Uses car for Having fun
Does recommend this car
---
Great experience
by Mercedes buyer from Rutherford, NJ | March 19, 2013
After shopping for a Mercedes for couple weeks they help me to get approved , even my credit is not too good the make a miracle...lol thanks , will send my friends there for sure.
Purchased a new car
Uses car for Commuting
Does recommend this car
---
Most comfortable car I've driven
by Car nut from Boston | December 20, 2011
I had a BMW 750LI previously and this is a better car. The BMW handled better in the turns, but that's the only area where the S-Class gets a lower grade.
Purchased a new car
Uses car for Transporting family
Does recommend this car
---
Best bang for $ ever
by Eye Guy from Nashville | March 4, 2011
We got a great value, <3,000 miles 2008 top of the line, ~57% of original cost. My wife's favorite car ever.
Purchased a new car
Uses car for Just getting around
Does recommend this car
---
get in if you can
by Screwdriver from Baltimore, MD | November 22, 2010
I purchased the S63, after owning the CLS55. Once you've owned an AMG, it hard purchasing anything less. The S63 is well built and full of power. Frequent stops at the gas station is worth driving ever gallon to empty. The price of this machine is hefty, but you don't have to see others driving ypu twin vehicle everyday (or every week for that matter). Am I glad to have this vehicle, you darn skippy.
Purchased a new car
Uses car for Just getting around
Does recommend this car
---
Intuitive NOT
by Clarity First from New Orleans, La | November 7, 2010
Mercedes has no idea what "intuitive" means. Its Navigation system is nothing short of silly and unsafe. Its "miles to next turn" or "miles to final destination" is under the odometer instead of on the nav screen like most others. It's also not viewable unless you remove some other data (like tire PSI, radio info etc) to see it - an "either/or" scenario instead of both. Also, its parking sensors work bassackwards, meaning instead of an audible alert as you get too close to an object, you have to take your eyes off (parking for example) to look at the VISUAL indicator instead of an audible alert to guide you without taking your eyes off what you are doing - duh - as the audible does not come on till nearly too late. Safety is compromised by having the Nav combined with the Ipod, which forces you to go thru menu option after menu option after menu option to do something, rather than straight-forward selections. The whole world is moving to touch screens in phones and touch screen Navs are far easier and safer than Ipod menu selections buried deep in multiple commands that require you to take your eyes off the road. Hello, Mercedes, just how SAFE is that?
Purchased a new car
Uses car for Just getting around
Does recommend this car
---
I feel like I own a cool limo
by Nice car guy from Orlando Florida | October 12, 2010
I really love this car ... My wife loves it... We traded a Mercedes CLS500 for it... It feels like a dream car.. Cars . Com led me right to it.... Thanks
Purchased a new car
Uses car for Transporting family
Does recommend this car
---
Benz S550 is the BOMB!
by Ex BMW Car Club President from Worcester, MA | December 13, 2008
Fast, smooth, cool looking in MAG trim, living room rear and dynamic seats make this latest offering from MB a classic. While Benz should be ashamed at the $20K of options I put on this $87K car, at least they're not begging for a bailout. After owning 5 Bimmers, 2orsche's, 3 Audi's including a sweet A8, the new Benz S class does just about everything one could want in a luxury automobile. Distronic cruise, dynamic seat bolsters and wave massage with perforated leather that feels like the seat in mt home theater. Quiet cabin, rock solid handling with 4matic ( I ran summer tires in a New England winter with no problems)sport air suspension and sexy curves makes me still look forward to pushing the start button after a year. The car is so solid my bride doesn't even complain in spirited driving. Cons include worthless night vision location and newly designed window switches that I'm still not used to. Minor quality issues are a pleasant surprise. For highway cruising, my heavy foot averages 23 mpg. Forget about around town but who cares - great new chariot from the MB engineers!
Purchased a new car
Uses car for Work
Does recommend this car
---
People Who Viewed this Car Also Viewed
Select up to three models to compare with the 2008 Mercedes-Benz Maybach S600.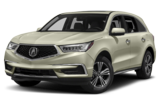 2017 Acura MDX
Starting MSRP
$43,950–$58,400
Compare
2011 Mercedes-Benz GL-Class
Asking Price Range
$19,429–$37,065
Compare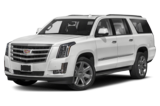 2017 Cadillac Escalade ESV
Starting MSRP
$76,395–$97,795
Compare
2015 Porsche Panamera e-Hybrid
Starting MSRP
$99,000–$99,000
Compare
Featured Services for this Mercedes-Benz Maybach S600