QUALITY IS never having to say you're sorry, and if that soundslike someone's definition of love, you're right.You want to understand quality? Do something for someone you careabout. I did. I spent a weekend here assembling furniture for one of mydaughters.The kid will have to live with the furniture for the next threeyears. I wanted to make sure that it was put together right. Correctassembly ensures longevity, and it improves chances for safe andpleasurable use.Mercedes-Benz understands what I mean. That's why it builds cars asgood as the tested 1995 E320 wagon. It's a super-tight wagon, nothingwobbly or shaky about it.In fact, if there's one big complaint about the E320 wagon, it'sthat the thing is overdone.The E320 is built like a vault, but it runs like a sports car. Noone needs that kind of quality in what is supposed to be an ordinaryfamily hauler. But having sampled the E320's many pleasures in the harshenvironments of the New Jersey Turnpike and the jampacked streets ofthis city's West Side, I'm glad that the people at Mercedes-Benz caredenough to reach way beyond the acceptable in bringing their wagon tomarket.Background: At a base price of $47,500, the E320 is the second mostexpensive station wagon sold in the United States. The most expensive isBMW's 530iT Touring wagon, which carries a base price of $48,600.In that costly climate, the E320 is the best buy -- because it'smore comfortable on the road, has more sensibly arranged cargo space anda more fuel-efficient engine and, well, for the life of me, because Ijust can't see why the BMW costs $1,100 more.Mercedes-Benz will keep the current E320 wagon through the 1996model year, after which it will introduce a new 1997 model. That meansconsumers who want and who have the wherewithal to buy a top stationwagon might get a price break, if they're willing to take a 1995 or 1996E320.For the deep of pocket, there's much to recommend buying a currentE320, beginning with safety.No individual consumer buys a vehicle to crash it. (The governmentand the private Insurance Institute for Highway Safety spend money thatway.) But if you had a serious crash, you'd want to be in an E320 withits heavy-gauge steel body, dual-front air bags, knee bolsters,automatically tensioning seat belts and standard power four-wheel discbrakes with anti-lock backup.The rear-wheel-drive E320 wagon is equipped with a 3.2-liter,double overhead-cam, inline six-cylinder engine rated 217 horsepower at5,500 rpm. Max torque is set at 229 pound-feet at 3,750 rpm.The E320 can carry seven people. With the rear seats up, it canhaul 42.3 cubic feet of cargo; with the seats down, cargo space is 76.8cubic feet.A four-speed automatic transmission is standard in the E320.Complaints: The curtain rod that spools and unspools the vinylcovering that hides stored cargo remains attached to the left rear seatwhen that seat is lowered. The attachment gets in the way of the cargo.Praise: All-around excellence. Great road car. You literally feelsafe inside this one.Ride, acceleration and handling: The E320 outmaneuvered many sportscars and wannabe sports cars on the New Jersey Turnpike. Excellentacceleration (0 to 60 miles per hour in 8.2 seconds), excellent ride andhandling. Superior braking system.Mileage: About 23 to the gallon (19-gallon tank, estimated 420-milerange on usable volume of required premium unleaded), running with twooccupants, a bike and lots of "ready-to-assemble" furniture.Sound system: Six-speaker AM/FM stereo radio and cassette withoptional CD disc changer. Installed by Mercedes-Benz. Very good.Price: Base price on the tested 1995 E320 is $47,500. Dealerinvoice on base model is $40,410. Price as tested is $52,380, includingan estimated $1,450 in federal luxury taxes, $2,835 in options and a$595 destination charge.Purse-strings note: Your call. Compare with BMW 5 30iT and 525iTTouring wagons, Audi A6 wagon, Volvo 850 Sportswagon and Volvo 940 and960 wagons.
---
People Who Viewed this Car Also Viewed
Select up to three models to compare with the 1995 Mercedes-Benz E-Class.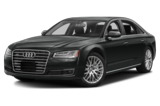 2000 Audi A8
Asking Price Range
$3,128–$8,080
Compare
2015 Hyundai Equus
Starting MSRP
$61,500–$68,750
Compare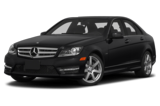 2013 Mercedes-Benz C-Class
Asking Price Range
$13,746–$32,642
Compare
Featured Services for this Mercedes-Benz E-Class