There's no denying the charms of Lexus' redesigned RX crossover. It's extremely comfortable; it packs a sophisticated, upscale interior; and, in the hybrid version, it returns the mileage of a midsize sedan — a four-cylinder one.

With all that going for it, the RX 450h hybrid has one fatal flaw: It drives like a hybrid from five years ago before most companies had worked out the odd kinks of the fuel-efficient cars, like spotty braking and herky-jerky acceleration. Aside from that, the RX is a sublime crossover.
Performance
Every good mark the RX line up earns in other areas is discredited by the hybrid's performance attributes. To get such excellent mileage, the V-6 engine is teamed with an electric motor and a large battery pack, along with regenerative brakes that send brake force to recharge the battery. This is one of the main reasons hybrids get such great mileage.

The RX's brakes, however, are horrendous. Just as in the first hybrid I ever tested, the RX's brakes engage when you push down on the pedal, then release briefly and engage again. It's a disconcerting feeling that likely hampered hybrid sales when they were first introduced. Oddly enough, Toyota's redesigned Prius has excellent brakes, with none of the hesitation that the RX displays. Those engineers clearly didn't work on the RX's brakes.

The acceleration is just as stilted. When you tap the gas pedal, the engine — which often shuts off at idle — kicks on with a lurch before there's any get-up-and-go. Again, this is a hybrid trait of the past. The new 2010 Prius and Ford Fusion Hybrid don't act this way. In all other performance metrics you'll experience on a daily drive, from highway passing to steering feel, the front-wheel-drive RX I tested is acceptable — if not good — for its class. There's little to no engine noise, even when the gas engine is running full tilt.

The suspension is slightly on the cushy side, but luxury buyers expect such comfort. I never expected a sportier driving experience in a Lexus crossover.

One bonus of Toyota's hybrid system in the RX is the ability to drive in electric-only mode up to 25 mph. This is a great thing to use in bumper-to-bumper commutes, as I recently discovered in the Prius. I engaged the RX's electric mode on my morning commute, and it lasted nearly 2 miles before running through the battery charge. The Prius topped out at 2.4 miles before it switched to gas power on my morning commute. However, I was only able to use the EV mode twice during my week-long test drive, with the car always citing not enough charge to switch over. The Prius' EV mode at least turned on during every drive I took, even if it didn't always manage 2.4 miles.

I averaged 26.6 mpg during my test, which involved four days of my daily 50-mile round-trip drive to work in very heavy traffic, which should boost mileage in a hybrid vehicle. That bests a four-cylinder Toyota Camry's 26 mpg combined, but the EPA rates the front-wheel-drive RX I tested at 32/28 mpg city/highway and 30 mpg combined. Since I rarely used the air conditioning and temperatures were mild, in the 50- to 60-degree range, I was a bit unimpressed with the RX's real-world results. Still, most crossovers this size barely break the 20 mpg combined figure. The standard RX 350 rates just 21 mpg combined.

An all-wheel-drive version of the RX 450h is available. It gets 30/28 mpg city/highway and 29 mpg combined.
Exterior
The new RX is clearly an evolution of the past generation's design, not a groundbreaking new look. That's OK, because the previous generation is the benchmark for the class; competing automakers tell us that directly, which is a compliment. The previous RX sold extremely well, and the new one is also selling well. That's why the new design, while slightly more aggressive up front, remains nondescript everywhere else, which shouldn't turn off any buyers.

The biggest change comes to the grille, which has an interesting vertical swoop at the bottom and, as far as I could tell, was actually made of metal — a rarity in today's plastic, fake-chrome world.
Interior
Where the RX really shines is in the cabin. The base RX 350 has a terrifically upscale interior for $37,250. Even at the hybrid's starting price of $42,110, it seems lush and well worth the money. The leather is rich and soft — like a really nice couch, not a luxury car. The driver's seat is especially comfortable, with plenty of thigh support and a wide back. Some luxury cars have seats that are overly stiff, but not the RX.

From that cushy perch, your eyes glance over the dash and its scoop-like center control cluster with the shifter directly below. It's an odd place for a shifter, but I got used to it during my test. There's no escaping, however, the fact that the buttons directly above it are hard to reach. They're also quite small.

To control most of the advanced features, like navigation with voice commands (available in a $2,465 option package) you have to use a computer mouse-like controller that Lexus calls Remote Touch. It works almost exactly like a computer's mouse and is located right below the shifter. It's comfortable to put your hand around and easy to move the arrow on the center-mounted LCD screen, but most commands don't require such precise cursor placement. A simple clickwheel like you find in Mercedes and Audi cars would be preferable. Because it reminded me so much of a mouse, it also kind of reminded me of the cubicle I spend my days in ... while I was driving. That wasn't a good mindset to be in.

I didn't like the heated and cooled seat controls hidden under the sliding armrest/center console cover. If you left one on you wouldn't be able to shut it off — or even see what setting it was on — if you or a passenger slid the armrest up.

The backseat is spacious, and I easily fit both an infant and convertible child-safety seat back there using the Latch anchors. Legroom for adults is beyond plentiful, as is headroom.
Features
While the RX 450h is reasonably priced to start at $42,110, adding options quickly ratchets up the sticker price. Items you might find standard on other cars in this class, like those heated and cooled seats, are an additional $640 (or $825 in a package along with rain-sensing wipers). To get a power moonroof, you need to add a $2,400 Premium Package, which also adds heated outside mirrors, a power hatch, a USB adapter, and memory settings for the driver's seat and steering wheel. Add in my test vehicle's navigation system ($2,465), a surround-sound audio system ($1,610), and LED headlights ($1,825), and the sticker was $52,110.

As a music fan who took the RX on a long commute, I was not impressed by the audio system. The sound was crisp, but it had no low end or midrange; it made even the most laid-back rock 'n' roll sound shrill. The navigation and entertainment settings, accessed using Remote Touch, were a pain to use.
Cargo
One winning attribute for the RX is its spacious cargo area. At 40 cubic feet with the rear seats up and 80.3 cubic feet with them folded, you'll be hard-pressed to find another two-row crossover — or perhaps even a three-row crossover — that tops it. Audi likes to compare its new Q5 crossover with the RX, but the Q5 packs just 29.1 cubic feet in back. The redesigned Cadillac SRX has 29.8/61.1 cubic feet.
Safety
Packed with 10 airbags and the requisite safety features found in luxury cars these days, the 2010 RX was named a Top Safety Pick by the Insurance Institute for Highway Safety in 2009. For 2010, those ratings will include a roof-strength test, which the RX has not yet undergone. The RX should, however, meet most car shoppers' safety thresholds.

Additional options — like a pre-collision warning system and a subscription service that contacts roadside assistance for tire changes and emergency responders for crashes — are peace-of-mind features we like to see in this class. The pre-collision warning system detects when traffic ahead is stopped or moving too slowly and sounds an alert in the cabin, and it initiates braking when needed. It's part of a $1,500 option package that also comes with speed-sensitive cruise control that adjusts your speed to match traffic in front of you.
RX 450h in the Market
I've personally never understood car shoppers' desire to get a hybrid version of a luxury car or SUV, even if the mileage gains are significant, as they are in the RX; these buyers can afford more expensive gas if (when) prices spike. If the hybrid is also a pleasure to drive, it makes much more sense. An example of that is Lexus' own LS 600h sedan. When the driving experience is crippled by the hybrid system, as it is in the RX, there's no reason to buy. That's unfortunate, because the RX 350 is terrific and decently priced for what you get.

Adding the cost of the hybrid system to the cost of your daily driving happiness — even minus the huge mileage savings — is a tough equation for a car shopper to work through. There's no crossover — nor is there any SUV or minivan — that offers so much room with such great gas mileage, luxury badge or not. Even a four-cylinder Toyota Venza requires more stops at the pump.

Green drivers who can stomach the driving tradeoffs are the buyers who will gravitate to the RX 450h. I don't suspect anyone else will, but in today's increasingly eco-conscious world that might not be such a small group.


---
People Who Viewed this Car Also Viewed
Select up to three models to compare with the 2010 Lexus RX 450h.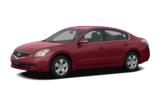 2008 Nissan Altima
Asking Price Range
$4,645–$11,793
Compare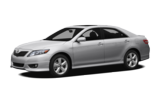 2011 Toyota Camry
Asking Price Range
$7,690–$15,646
Compare
2011 Volkswagen CC
Asking Price Range
$7,415–$16,119
Compare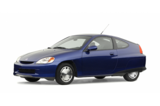 2003 Honda Insight
Asking Price Range
$4,003–$4,963
Compare
2013 Honda Civic Hybrid
Asking Price Range
$11,624–$18,740
Compare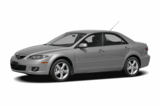 2007 Mazda Mazda6
Asking Price Range
$3,278–$9,562
Compare
2008 Honda Civic
Asking Price Range
$4,682–$12,378
Compare
2013 Toyota Avalon
Asking Price Range
$17,350–$27,958
Compare
Featured Services for this Lexus RX 450h