Luxury SUV buyers don't drive in the same world as the rest of us. Clearly, if they can afford $70,000-plus SUVs they can afford gas that costs $4 a gallon — or more for the premium gas that many luxury SUVs require. That's why the new Lexus LX 570 can come on the scene with its head held high, showing off an all-new look inside and out, plus a much more powerful engine that, yes, gets gas mileage that's nearly identical to the outgoing model, the LX 470. Check out a comparison of the 2007 and 2008 models here.

Is it enough? While the eight-seat Lexus LX 570 is certainly a remarkable update of the previous model, it competes with an array of tough competition from Land Rover, BMW, Mercedes-Benz and even Cadillac. In the end, its best weapon is that it is a Lexus through and through. It offers the cushy, quiet ride you expect, along with plenty of space for the family, but there are few SUVs on the market with such a high price tag.
Looks
It would have been hard for Lexus not to improve on the slab-sided look of the LX 570's predecessor, but making an SUV of this magnitude look stylish is a tough task. The LX 570 is still a bit slab-sided, but the oversized grille borders between menacing and elegant and flows well into the hood.

The rear is a bit less interesting. A huge rear window, which is great for visibility, is hard to design around, and Lexus left things pretty much bare back there except for a pair of wraparound taillights. It's an interesting idea, but a lot of sheet metal was left with no design touches at all.

Luckily, minimalism works, and Lexus buyers aren't traditionally looking for the wildest designs. Almost all of the LX 570's competition is more stylish, from the Land Rover Range Rover to the Mercedes-Benz GL-Class. Those who want their SUVs to flaunt their wealth have much better choices.
Interior
This is going to be tough to explain. How do you tell readers that an SUV with a $74,700 base price just isn't "nice enough" inside to warrant that sum? Well, it starts with the dashboard. The same thing is true in Lexus' large sedan, the LS 460, whose dashboard isn't of significantly better quality than its much-lower-priced ES 350 sibling. While the plastic buttons in the LX 570 are nicer than those in a Chevy Tahoe, there is no elegance like you'd find on the interface in a Mercedes, or even the rugged take on ergonomic controls that the Range Rover exhibits. The LX 570's gauges are also quite boring, with simple numerals and blue and white lighting. They're legible, but they're also about as luxurious as the gauges in a Honda Civic.

The surfaces on the doors and dash are also not up to the level of luxury you'd expect at this price. They're not bad, per se, and I'd rave about them if this were a $50,000 SUV, but for this price I expect more attention to detail. The saving grace of the interior is the comfort of the leather seats. The front seats are large and accommodating for any size frame. The seating position is relatively straight up, but it doesn't have that "bus driver" vibe like you'll often get in a minivan.
Performance
There's one chief expectation drivers have when hopping into most Lexus vehicles — that it will have a quiet, comfortable ride. That is indeed the case with the LX 570. Despite giving this SUV a powerful engine, Lexus knows what its buyers want: They want to ride on a magic carpet.

OK, that might be an exaggeration, but Lexus knows that isolation — in terms of lessening road and wind noise, vibration, and, yes, even that powerful engine's note — is what is expected. For its immense size and blocky shape, the LX travels at high speeds with little wind noise. Road noise is muted, though it still intrudes slightly, mostly due to the large 20-inch wheels and tires. The engine is nearly silent unless the gas pedal is hammered on.

When you do stretch that right foot, the 383-horsepower, 5.7-liter V-8 awakens and launches the SUV down the highway. Passing isn't a concern here. Even with all that power, the LX is always refined, thanks to the six-speed automatic transmission.

There's no escaping how tall the LX is, though. Anything this top-heavy is going to lean in turns, especially on steep highway off-ramps. That's just one of the tradeoffs when you drive a large SUV like this.

Because you can't really compare the handling of large SUVs to that of cars, I always try to figure out how easy it is to navigate beasts like these in real-world driving. Parking ease, making tight turns and judging where the corners are is of paramount importance. Being able to test these things in a large city like Chicago comes in handy.

I park off a narrow alley behind my three-flat in a tandem parking spot. That means I have to make a tight left turn into the spot behind my wife's car. It was easy to squeeze the LX 570 into the spot. The Range Rover I drove a few weeks earlier wasn't nearly as good in this regard. I had to get out of the Range Rover a few times to check my parking job. I just couldn't tell where the heck the corners were. In the LX 570, there was no question. I usually only had to make one correcting move, which is true of most cars I test.

Then there are the potholes. I told my wife that the LX 570 is actually the perfect city car because it swallows potholes and spits them out without complaint. On the roughest of Chicago's pothole-littered streets, the LX 570 was still composed; the suspension handled the jolts without making the cabin shake or even mildly jostle. I can't recall any car or SUV I've tested that was this good on imperfect roads.

However, if the engine is still the most important performance component to you, you can tell people the LX 570 has more horsepower than the V-8s in the Audi Q7, BMW X5 and Range Rover. It even beats the Mercedes-Benz GL550 by 1 hp. Only the Cadillac Escalade's V-8 has significantly more power, at 403 hp. I will say the Escalade is more fun to drive, but it's nowhere near as comfortable.
Cargo & Seating
One of the unique things about the LX 570 compared to other three-row SUVs is that the third row folds sideways, up to the side of the car instead of down into the floor. This is an odd setup even when it's executed well, as it is here. By folding the seats up against the rear windows, you theoretically reduce visibility. I didn't really notice the reduction in my own driving, but shorter drivers might.

You would think the resulting cargo area would be smaller than with other setups because of the big, bulky seats, but the space is so vast it never became an issue. What I didn't like was the split opening in back, with its larger upper liftgate and smaller flip-down tailgate. This clamshell setup is used in some Land Rovers as well. I dislike it in almost every application. While there may be times you want to reach down into the cargo area, the LX 570 is so far off the ground it wasn't comfortable for me to do so, and I'm 5-foot-10. Also, because of its high load height, it's a pain to put luggage in the back.

However, it does hold a lot of luggage. When two Cars.com staffers joined me for a road trip, our luggage and computer gear all fit with plenty of room to spare. We even served as a shuttle at an event, fitting four folks and all of their luggage just fine. Cargo volume for the LX 570 versus the Mercedes-Benz GL550 is almost identical, at 83.1 cubic feet and 83.3 cubic feet, respectively with both the second and third rows folded flat.

With the third row in place, space is obviously smaller, but it's still competitive for the segment. Comfort in the third row is also about average. I've yet to be extremely comfortable in a third row, and I thought maybe this would be the one. Alas, it wasn't. I especially wouldn't want to be the one in the middle of the third row.
Off-Road & Towing
The LX 570 is a very capable off-roader with full-time four-wheel drive and a two-speed transfer case. The specs say it has a maximum trailering capacity of 8,500 pounds, yet it doesn't offer a dedicated tow or haul mode. Still, it should be plenty capable of towing a boat. I expect 90 percent of LX 570 buyers will never even see gravel, let alone a true offroad trail.
Features
As you would expect from such an expensive SUV, most features come standard. These include leather seats, real wood trim, a navigation system, a rearview camera, Bluetooth, four-zone climate control, a power tilt/telescoping steering wheel, a moonroof, power-folding side mirrors, power-folding third-row seats, a power-sliding second row, illuminated scuff plates and rain-sensitive windshield wipers.

Heated and cooled front seats and a heated second row are an additional $890; they're often standard on cars this expensive. Park Assist is $1,000, and a rear-seat entertainment system with wireless headphones is $1,990. A Technology Package with a 19-speaker sound system, hard disk drive and a six-CD/DVD changer goes for $4,200.

I wouldn't recommend the sound system at any price. I like a good stereo, and with 19 speakers I expected a lot more from Lexus' system. The sound was tinny, with too much treble. Rock music did not sound robust, and bass-heavy tunes were anemically powered. Even talk radio was hard to hear unless turned up very loud. The optional system in a Ford Focus compact car sounds better than this unit; asking $4,200 for it is ludicrous.
Safety
The LX 570 has all the safety features you'd expect in a vehicle of this class. Obviously there's the standard front airbags, as well as seat-mounted side airbags for both the first and second rows. Side curtain airbags protect all three rows.

Stability control is also standard. As of this writing, the LX 570 hasn't been crash tested by the Insurance Institute for Highway Safety.
LX 570 in the Market
There isn't a big market for $75,000 SUVs. Only a few exist, and the LX 570 certainly attempts to prove it's worth all that cash. Perhaps in some ways it is, but there are a few luxury three-row SUVs that cost less and deliver a more luxurious-feeling interior, like the BMW X5 and Mercedes-Benz GL450, the GL550's less-powerful sibling. The Cadillac Escalade is a bargain in this bunch, too, but it isn't as nice inside. Even the overlooked Mercedes R-Class crossover offers a nice alternative for buyers only interested in carting the family around, and it costs about $20,000 less.

But the LX 570 competes directly with just the Range Rover and GL550, and the Range Rover doesn't have three rows of seats. That leaves the GL550 and LX 570 going head-to-head. For the driving experience, you'd have to take the LX 570. For the luxury and looks, the winner is the GL550. How do you want to spend your $75,000?
---
People Who Viewed this Car Also Viewed
Select up to three models to compare with the 2008 Lexus LX 570.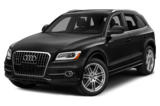 2016 Audi Q5 hybrid
Starting MSRP
$52,500–$52,500
Compare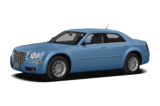 2008 Chrysler 300
Asking Price Range
$4,382–$14,010
Compare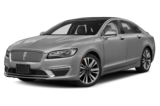 2017 Lincoln MKZ
Starting MSRP
$35,170–$49,720
Compare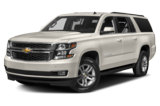 2016 Chevrolet Suburban
Starting MSRP
$49,700–$67,440
Compare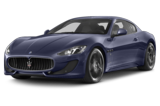 2013 Maserati GranTurismo
Asking Price Range
$56,033–$102,661
Compare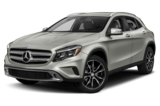 2016 Mercedes-Benz GLA-Class
Starting MSRP
$32,500–$34,500
Compare
Featured Services for this Lexus LX 570