Few cars strike me as too powerful, but the new Jaguar XFR sport sedan comes awfully close, at least when it comes to driving on public roads. Boasting a 510-horsepower, supercharged 5.0-liter V-8, the XFR demands prudent use of the gas pedal, lest you find yourself at speeds that will have you trading the XFR's leather bucket seats for the vinyl backseat of a Crown Victoria.

Despite its performance aspirations, the XFR's surprisingly livable suspension tuning means it's just as suited to commuting in traffic as it is blasting down an open highway. Indeed, it's a special blend of comfort and power.

If 510 hp isn't your thing, check out our review of the 2010 XF Premium. It's still a quick car, thanks to its 385-hp V-8 engine.
Stealthy Looks
With so much power on tap, Jaguar wisely made the XFR something of a "sleeper" — a car with plenty of go-fast potential, but styling that doesn't draw too much attention. The fact that it's a sedan helps in this regard, but Jaguar also restrained itself in terms of cosmetic modifications when crafting this R car. Subtle cues include hood vents, a revised front bumper with gaping lower grilles, and standard 20-inch alloy wheels. Our test car's dark silver paint also helped the XFR blend into the crowd. If you prefer something more eye-catching, brighter colors are available.
Supercharged V-8 Power
There are all kinds of driving situations, like pulling into traffic or merging onto the highway, that are made easier by having a powerful engine. The XFR's supercharged V-8, however, is the kind of engine that can take you from 70 to 90 mph in a few seconds. No daily driver needs that kind of capability, but that's the power this V-8 delivers. Mash the gas pedal, and the surge of power will snap your head back. Jaguar cites a zero-to-60-mph time of 4.7 seconds, which is pretty good for a car that weighs 4,306 pounds. EPA-estimated gas mileage is 15/21 mpg city/highway, which means the XFR avoids a gas-guzzler tax.

The way this V-8 makes its power is as impressive as how it moves the XFR. It's not an unruly engine — whether you're talking about its idle smoothness or the sound it makes — and it doesn't get too loud when accelerating; the quad tailpipes emit a deep, pleasing rumble. Everything about it says luxury-oriented V-8 ... everything but its extra 200 hp, that is.

Even though the V-8 is supercharged, even gearhead passengers will be hard-pressed to know that from the sound, as it makes only the slightest supercharger whine now and then. The V-8 is force-fed air through a Roots-type supercharger that's also used in the high-performance Chevrolet Corvette ZR1, and it's just as at home in the XFR.

Channeling the supercharged V-8's power is a six-speed automatic transmission. It has a big job to do, and it does it well. The transmission makes smooth shifts during leisurely driving and willingly kicks down when you want to accelerate.

The automatic includes paddle shifters on the steering wheel, as well as a Sport mode that's selected from the console gear selector. Sport mode holds gears longer before upshifting, keeping engine rpm higher and making the car feel more responsive, as well as providing some engine braking when you take your foot off the gas pedal.

It takes only light brake-pedal pressure to get strong stopping power, but the pedal's progression isn't the most linear, and the brakes can be a bit grabby.
Ride & Handling
The performance-oriented XFR's ride-quality tradeoff is surprisingly minimal compared with an XF Premium, which is powered by a non-supercharged 5.0-liter V-8 and has a relatively firm ride to begin with. That means you can use the XFR as a daily driver without it punishing you on the morning and evening commute. The suspension tuning is firmer than an XF's, no question, but it's supple enough to damp big bumps in the road.

That said, the XFR's suspension is still sensitive to road surfaces, and it communicates to the cabin minor pavement variations that you can't see. Roads that look smooth may in fact have lots of little dips and rises in them, and when driving the XFR you'll know all about them. It feels like the car is constantly at work, as it's always adjusting to the road.

The XFR comes standard with Jaguar's Adaptive Dynamics adaptive suspension. The electronically controlled system's damping properties are adjusted on the fly to accommodate changing road conditions and driver behavior. The XFR also includes a Dynamic Mode that, in addition to changing the gas pedal, transmission and stability system characteristics, also adjusts the suspension. The suspension changes aren't the most apparent, though; the ride is just a tad firmer.

For a luxury sport sedan, the XFR offers quite a bit of steering feedback, yet still retains the light-effort feel that's common among luxury sedans. The steering is reasonably responsive, too, and the car quickly changes directions when you want it to.

The sedan also stays pretty flat when cornering hard, with the front bucket seats' side bolsters holding you in place. You do feel the weight of this car in corners, though.
The Inside
There are a lot of theatrics in the XFR's cabin. One of the more interesting features is a heartbeat-like pulsing light from the car's start button before you turn on the car. It's a little weird on one level and kind of cool on another.

There's more. When you press the beating-heart button to awaken the XFR, the gear selector knob rises from a hole in the console and the dashboard vents rotate open. All in all, there's a lot going on, which really stands out because the cabin's styling is otherwise simple and restrained.

Less impressive is the appearance of many of the car's buttons and switches, which have a silver finish that looks low rent in an $80,000 luxury car. At night, the interior is bathed in cool-blue ambient light.

The bucket seats are covered in standard leather upholstery and have firm, supportive cushioning. The seats also have power-adjustable side bolsters and bottom cushions that can be moved independent of the backrest.
Safety
Standard XF safety features include antilock brakes, an electronic stability system, side-impact airbags for the front seats, side curtain airbags for both rows and active head restraints for the front seats. Models with adaptive cruise control, which is standard on the XFR, gain Jaguar's Advanced Emergency Brake Assist system, which will sound a warning and prepare the brakes for stronger performance if the system determines a collision may occur.

Check out the Standard Equipment & Specs page for a full list of safety features.
XFR in the Market
The XFR and cars like it cater to a select crowd of enthusiasts, and if I had the means I'd probably count myself as a member of that group. There's no question you pay a hefty premium to be part of the club, as the XFR costs roughly $20,000 more than the XF Premium — a less powerful but still very satisfying car.

With the XFR, Jaguar has enhanced the good qualities of the XF Premium without introducing any overly objectionable characteristics, and that's quite a feat. It makes the incredible performance that much more gratifying.
---
People Who Viewed this Car Also Viewed
Select up to three models to compare with the 2010 Jaguar XF.
2007 Lincoln MKX
Asking Price Range
$6,928–$15,724
Compare
2016 Lexus RX 450h
Starting MSRP
$52,235–$57,045
Compare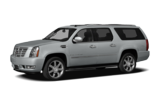 2012 Cadillac Escalade ESV
Asking Price Range
$25,833–$50,805
Compare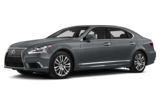 2016 Lexus LS 600h L
Starting MSRP
$120,440–$120,440
Compare
Featured Services for this Jaguar XF