Average Ratings
---
16 out of 17 people recommended this car.
---
2 dr, 5 speed Accent
by Moe from Tucson AZ | March 6, 2015
8 Years and 80K miles, only repairs its needed were 2 new coil packs ($38 each and five min fix). Mine gets right at 30MPG and I beat it like a dog. Adequate Horse Power for what it is, a comuter car... Doesnt like the highway (4000 RPM at 70 MPH) but does it anyway without complaint. Comfortable for a 6 footer, plenty of storage in the hatch. Great stereo. Good looks. Unbeatable bang for the buck! Im giveing mine to my 16 year old as soon as she can drive a manual.
Purchased a new car
Uses car for Commuting
Does recommend this car
---
Worry-free transportation.
by Aging Baby Boomer from Atlanta, GA | August 12, 2013
It's an econo-box. That's just what I needed. It's comfortable, reliable, and economical. There's plenty of room in either front seat for my large body. There's plenty of room in the trunk for whatever I want to put in the trunk. The radio and A/C work great. It's not a great car for impressing girls, but at my age, I don't care about that.
Purchased a new car
Uses car for Commuting
Does recommend this car
---
Best in its class, bar none.
by 1stSgt from Choctaw, Oklahome | October 31, 2011
I've owned my Accent since May 2007, 65,000 miles ago. Never had a problem with it. I just do the recommended mantenance. I've owned Ford, Chevy, KIA (prior to Hyundai's takeover) and Mercury sub-compacts. I've rented Honda, Toyota, Nissan and Dodge Sub-compacts. I give the Hyundai Accent higher marks than all of them. i just wish I ordered mine with cruise control!!!!!
Purchased a new car
Uses car for Commuting
Does recommend this car
---
Most reliable car I've owned!
by Loving my car from | October 12, 2011
This car is great for your first car, its great on gas, and is great for long trips. If you're a tall person I suggest not getting it because the inside may be too small for you, otherwise this is a great investment!
Purchased a new car
Uses car for N/A
Does recommend this car
---
Dependable
by zuke from Bloomington,Il | February 12, 2011
I purchased car new and it has been very dependable.The break in period for better gas mileage started at about 14000 miles,so if you are getting frustrated about your mileage just hang in there,it will get better.The car is everything and more for what I use it for.If you want a dependable car buy this one or the kia rio,the are both built by hyundai.
Purchased a new car
Uses car for Just getting around
Does recommend this car
---
Decent car with unfortunate electrical issues.
by dlc2011az from Tucson AZ | January 16, 2011
After 24,000 miles, very noticeable squeaks and rattles from tailgate area. Car is now on its 3rd (that's right 3rd) battery. Dealer claims Arizona heat is hard on batteries which I believe, but I've had several other cars, including other Hyundais which had longer-lasting batteries in the same climate. Whichever it is Hyundai, fix your charging systems or your batteries because they are totally worthless. Shifter is balky and imprecise (try finding your way into fourth from neutral). Driver's armrest is unusable due to its hard surface. Car is now spark knocking under low-throttle conditions at 5-10 mph in 2nd gear. Only premium gas will fix the problem. This car is supposed to have knock sensors, Driver's side visor retaining spring broke, forcing me to adhere it to the headliner to stop it from dropping down into my vision. Dealers have to be told that you have the extended warranty before they fix something, otherwise they'll charge you. Rear spoiler above window is fiberglass and is oxidizing. There are good things: it is a good cruising car, quiet with the windows up, takes bumps firmly but comfortably. Rims look good but too easy to scratch when you brush up against something. Economy with 5 speed, 27 city in summer (a/c), 30 winter. Handling in corners usually solid and composed. This car has a history of bad side crash results. The battery issues have sworn me away from Hyundai forever, just no excuse there. I can say that otherwise the reliability has been good with other components.
Purchased a new car
Uses car for Commuting
Does not recommend this car
---
Dependable
by zuke from Bloomington,IL | February 22, 2010
I bought new and the car has been great.Only have 13,500 miles on her but she is a very dependable car.The warranty on the car alone is worth it.I have the se model and if you are looking for a good used car or a new one consider the accent.I was hoping for better gas mileage but it does have a small gas tank and I am getting around 19 to 23 in town and 30 to 32 on highway.
Purchased a new car
Uses car for Work
Does recommend this car
---
this car rocks
by wishdoctor from las vegas | November 24, 2008
i have driven everything as far as tunners and i love four banngers it is a very forgiving car for a beginner and and yet can pull some crazy handling out for an expert driver put a cold air intake and get a few more horses. that car will kill a civic in a race yes evan a v-tech. very wide powerband and the handling is phenominal on the se i can take a corner at 50mph and not squeel a tire and then brake in 30 feet a very good car on gas and extremly pleasing to the eye and comfortable if you like tuners try this out you wont be sorry
Purchased a new car
Uses car for Commuting
Does recommend this car
---
Well Designed Little Compact Import Car.
by EMC from | November 3, 2008
I've had my little 2007 Accent almost 2 years now and overall I am a very pleased customer. For the exception of safety the Accent rating is higher than all her competitors according to Consumer Reports. I will say I would not want to get hit in the side by an oncoming Hummer. The middle LED brake light failed which the dealer replaced free of charge despite exceeding the 12,000 mile warranty on that part which I wasn't too happy about. The part was $140!!!!! The insides of this part were terribly corroded. Perhaps it was a manufacturing glitch rather than a design issue. Otherwise no issues to report. A few previous customer reviews stated that 5th gear is very high which I agree. It makes for a rough ride at speeds over 65mph.
Purchased a new car
Uses car for N/A
Does recommend this car
---
Solid as a Honda at a more affordable price
by Jerry from Tucson | November 13, 2007
We have always been Honda people until the price became too much. Tried the Hyundai and love it. Solid, stable, good features and terrific warrantee. Hard to beat for the $$$.
Purchased a new car
Uses car for N/A
Does recommend this car
---
People Who Viewed this Car Also Viewed
Select up to three models to compare with the 2007 Hyundai Accent.
1999 BMW 540
Asking Price Range
$237–$11,889
Compare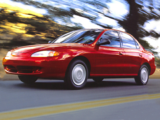 1999 Hyundai Elantra
Asking Price Range
$391–$4,779
Compare
2000 Audi A4
Asking Price Range
$1,612–$5,644
Compare
Featured Services for this Hyundai Accent