Average Ratings
---
6 out of 8 people recommended this car.
---
You get what you put into it.
by Sparky from minnesota | September 25, 2014
It's a reliable car that gets great gas mileage. Ultimately with a car like this, it comes down to how you drive the car and how well you take care of it, but that goes with any car. I've driven mine from 130,000 to 186,000. My first year had all sorts of repairs, but it's because they were all overdue and it was about that time in the car's life. I've had nearly 4 years without major issue with the car aside from regular maintenance and one scheduled maintenance fix. My advice is to get the manual version of this car, always drive it like grandma was carpooling that day, and don't neglect it. If you're in a winter climate, get a battery wrap and magnetic attachable oil pan heater to decrease engine stress and lengthen car life. Ultimately, this car is cheaper, but with a potential to cost a lot less per mile over the life of the vehicle. Some Pros: Cheap to buy used, parts are reasonable, It has the potential for longevity. I got 40 mpg city/hwy combined with hypermiling techniques I met a guy who drove his to 270,000 miles. Some Cons: The engine seems sturdy, but everything else has a cheap feel to it. If you don't take care of it, it could cost you.
Purchased a new car
Uses car for Commuting
Does recommend this car
---
Great car for the price
by White Wolf from Traverse City, MI | September 19, 2012
Lets be honest it's a cheap car, but for a college student like me that travels it is a great "college kid" car.
Purchased a new car
Uses car for Commuting
Does recommend this car
---
After 230.000 Km
by Accent Owner from | October 11, 2011
A really "honest" Low cost car. I own a 2000 model 5 door Accent for family transport,and work as well. After 11 years of moderate use I needed a gear box replacement, a set of absorbers, and louter front suspension parts which were worn. About mileage, I've managed down to 6,2 liters/100 Km on the highway For all the above I,m quite satisfied
Purchased a new car
Uses car for Transporting family
Does recommend this car
---
Good car for the money
by Single mom from Louisiana | July 15, 2010
I own a 2002 3 door like the one pictured here. This was my first new car that I bought for myself. I have 93,000 miles on it now and it still runs great. Some of the maintenance costs get a little expensive( about 400-500 dollars)to keep the cars 30,000 ,60,000 etc.. maintenance up, but I have never been stranded in this car. I have driven from California to Louisiana , Louisiana to Utah and back with no problems. This is my one and only car and I will buy another Hyundai Accent when this one just can't run anymore. The drop down back seat has been great because I can get alot of things in the car when I need to. It also has the original brakes and brake pads.
Purchased a new car
Uses car for Commuting
Does recommend this car
---
Family car
by Ahmad from Malaysia | June 15, 2009
If you have a new born baby i recomend Hyundai Accent . comfort,quite and temp. control are yours.
Purchased a new car
Uses car for Transporting family
Does recommend this car
---
a civic costs 4 grand more because it's worth it!
by works on my own cars from upstate ny | August 10, 2007
I inherited this car from my mother in law, there are things to like about it, it is easy on gas brakes and tires, however it is about as comfortable as a vespa scooter and feels about as stable at highway speeds. it is especialy vaugue and drifty when cornering. Reliability: In my opinion the "best waranty in America" statement fails to adress who it is best for, (it's the dealer) the waranty is frought with small print and loopholes for the company to weasel out. just like all waranties. Oh and if you have a standard plan on getting the clutch replaced just north of 100k miles. The clutch disc and preasure plate will be pristine, but the throwout bearing which is made out of plastic will have melted into a blob and destroyed the slave cylindar in the proces. plan on paying over 500 dollars for the repair. in my opinion while the civic and the accent may be similay on paper, the civic is a far superior product, in handling, comfort, fit and finish and above all buletproof reliability!
Purchased a new car
Uses car for N/A
Does not recommend this car
---
Not bad...
by Long Distance Commuter from Monee, IL | May 31, 2006
I got this car while I was in college because it was the cheapest brand new car out there. Cons: little 13 inch wheels look like you are driving a clown car; steering wheel is also tiny, and the top of that steering wheel has worn out pretty bad in the past 6 years; not a lot of interior space; I did have to have the transmission replaced once, but I didn't have to buy any $500 belt like the guy in the last review. They just replaced it at about 50,000 miles; small engine means that you aren't going to blow anyone away off the line Pros: great gas mileage due to above-mentioned small engine(I read the last review, but I actually have been getting 38 MPG because I only drive highway, and I keep my car up-to-date on scheduled maintenance); because it's small, no one wants you to give them a ride anywhere; great for someone who has a long commute becuase it's not entirely uncomfortable (I have a 75 minute commute and I'm fine after I'm done). Overall, this was a good car in my opinion, as long as you keep it up. I'll bet the newer Accent has been improved upon.
Purchased a new car
Uses car for N/A
Does recommend this car
---
Oh my gawd!!!! Not a good car.
by Greg from San Diego, CA | May 25, 2006
I've had four or five trasmissions replaced in this car and countless other failures have happened as well. I get about 25 mpg average. Please read the fine print, Hyundai makes you by a $500+ belt to keep your 100,000 mile warranty in tact or else it goes out the window.
Purchased a new car
Uses car for N/A
Does not recommend this car
---
People Who Viewed this Car Also Viewed
Select up to three models to compare with the 2000 Hyundai Accent.
2007 Bentley Arnage
Asking Price Range
$58,166–$85,098
Compare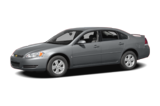 2008 Chevrolet Impala
Asking Price Range
$3,646–$11,750
Compare
Featured Services for this Hyundai Accent