Average Ratings
---
7 out of 9 people recommended this car.
---
This car has been incredible
by responsible car owner from Guelph, Ontario | January 16, 2013
I bought the manual Accent GS hatchback car in 2010, when it was 10 years old, when it was at 160,000 kms. I have been driving it for 2.5 years. It is now at 220,000 kms and no major repairs have been needed. The repairs that have been done are: the starter, radiator fan and leaking fuel lines. The gas gage stopped working shortly after I bought it, which is not a big deal. These are all minor repairs that, considering the age and kms on this car, are to be expected. I am really enthusiatic about this car, it's the best car I've owned. It's already surpassed my expectations. One of the reasons I think it's reliable is because it's so simple. It doesn't have power steering or power windows or very many extra features - that means, less things that can break. This car is still driving very well, and hopefully still have a few years left!
Purchased a new car
Uses car for Commuting
Does recommend this car
---
Great on gas
by Young Adult Commuter from Monroe, MI | October 16, 2012
I have had this car for the past two years. When I bought it, there was 40,000 miles on it and I've put another 80,000 driving to school for a year and then the past year to my place of employment. (Both are 40-50 miles away.) This car gets great gas mileage and repairs were relatively inexpensive. I personally had trouble with the electronics in the car, but someone had installed an after market alarm and connected the ground and battery wires incorrectly, which led to several problems. Otherwise, I love this car. It's been reliable and handles decent in the snow for such a small car.
Purchased a new car
Uses car for Commuting
Does recommend this car
---
Hyundai Accent 1999
by Bobo from Mitchell, NC | December 27, 2011
I have owned a 1999 Accent for 3 years and so far I had no major problems to be considered. The only minor problem I had was the rust. I bought the Accent with 46,980 miles. Around the 123k mile mark the rear fender rusted like crazy. Rust is not a huge problem to me. I traded the Accent in 2007.
Purchased a new car
Uses car for Transporting family
Does not recommend this car
---
GREAT LITTLE CAR!
by SteveSteve from Hilton Head, SC | October 8, 2010
I drove my Accent cross country from NY to Cali. Not a single issue. Despite the small size there was plenty of room for me and all of my stuff. I'm 5'11 170 lbs. The seats were comforible enough for those 13 hour stints. The only thing my Accent didn't have was cruise. Oh well... I have since sold the car and bought an Elantra. I still miss my little Accent.
Purchased a new car
Uses car for Commuting
Does recommend this car
---
the worst hyundai car made
by Hyundai liker from Dubois, PA | October 25, 2009
I have had many hyundais in my past, i was short on money, and i needed to buy a cheap car. so i baught a 99 accent. Believe me, i coundnt fit being 6 ft. 210 ib. also my kids couldnt fit. THis is the worst car i have ever owned, and trust me the new one is not any better according to my friend.
Purchased a new car
Uses car for Just getting around
Does not recommend this car
---
The Accent is a go
by Huge teen from Oklahoma | December 21, 2008
This is the first car I've owned and its been great to me. I got the top of the line 2dr hatchback with sunroof and spoiler in ebony black. I use this car to go to highschool and back and go everywhere else. It gets super gas mileage in the high 20's to 30's. I only gave it 3 stars in comfort since it is a small car and I am 16 years old, 6 ft tall and 398pounds(almost all fat some muscle)and so its sometimes hard for me to fit in the car. It accelerates reasonably and would recommened to a friend.fit and finish is good
Purchased a new car
Uses car for N/A
Does recommend this car
---
I have 180 000 miles, runs wike new
by The Hyundai guy from Virginia Beach, VA | April 5, 2008
Amazing car, never had a better one. I have 180 000 miles without changing any engine parts, it runs perfectly. I also like the way it looks, I have the 99 GSI it has nice bumpers, fog lights, side skirts, and also aluminum wheels. It is pretty fast for a 1.5 and I think is a lot better than the Civics that everyone drive and still don't know why. When people see my Hyundai they ask me what kind of car is it and I like that, because I prefer unique rather than commercial. It runs perfectly in any condition I drove it. After all I am very satisfied with every bit of it. It has great handling, good performance, good on gas, and I love the way it looks.
Purchased a new car
Uses car for N/A
Does recommend this car
---
Hyundia
by enthusiast from new hampshire | December 6, 2006
found it to be good handling good in snow,rain or other bad road conitions.found at highway speed tight steering and the gas mileage very good,makes a good commuter car for work
Purchased a new car
Uses car for N/A
Does recommend this car
---
Best car in the world
by Student from Limerick | November 2, 2006
i bought this car as my first car so i may be a bit biased. this car has great reliability and is a great starter car, it is also extremly comfortable on long journeys, this is the most economical car i have ever heard of doing about 200 km on about ?12, i have not seen any problems yet but i dont expect to. other reviews might suggest that the car is bad on roads, hills, corners and traffic but i have seen other wise, this little car has the power to tackle hills and corner turns without hassle. the only down side is it is next to impossible to get a cd player installed and most garages will try but they will break the heating system, this happened to me but it was fixed relatively easy. the back seat is spacious and i have had three really tall big lads in the back and they were comfortable. enjoy this car if you buy it :)
Purchased a new car
Uses car for N/A
Does recommend this car
---
People Who Viewed this Car Also Viewed
Select up to three models to compare with the 1999 Hyundai Accent.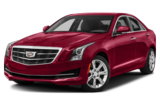 2017 Cadillac ATS
Starting MSRP
$34,595–$49,495
Compare
2013 Chevrolet Silverado 3500
Asking Price Range
$19,831–$56,339
Compare
2017 Chevrolet Sonic
Starting MSRP
$15,145–$21,215
Compare
2013 Infiniti G37
Asking Price Range
$16,649–$30,469
Compare
Featured Services for this Hyundai Accent