Vehicle Overview
Honda scored big points with environmentalists when it launched the first gasoline/electric hybrid car in the U.S. market, the two-passenger Insight. Only a five-speed-manual transmission was offered when it debuted in the 2000 model year, but a continuously variable automatic transmission (CVT) became available in May 2001. This change makes the super-frugal hatchback more appealing to potential buyers who cannot, or do not wish to, drive a five-speed.

Instead of having four or five forward gears, the CVT operates in a manner more like a dimmer switch, producing an infinite number of drive ratios. The CVT has been available for several years on the regular, gasoline-powered Civic.

Nothing significant has changed for 2002. The Insight's 1.0-liter three-cylinder gasoline engine is supplemented by an electric motor. As a result, the front-drive Insight gets the highest EPA fuel economy ratings ever issued: 61 mpg city and 70 mpg highway.

Archrival Toyota offers a comparable hybrid powertrain in its Prius, a five-passenger four-door sedan. More gasoline/electric hybrids are coming during 2002, including a Ford Escape sport utility vehicle and a Honda Civic.

Exterior
Aero-profiled for efficiency, the Insight looks something like a Civic in the front, but the hatchback body has a distinctively smooth, rounded teardrop shape. Flared rear fenders cover the top half of the wheels. The Insight's sleek skin yields a coefficient of drag of 0.25 — one of the lowest of any mass-produced automobile in the world. In addition to the body, most suspension components are made of lightweight aluminum.

Mounted on a 94.5-inch wheelbase and measuring 155.1 inches long overall, the Insight weighs a trim 1,847 pounds and stands 53.3 inches tall. Special low-rolling-resistance tires help it consume minimal fuel.

Interior
Two bucket seats give adults ample room, but that's all the Insight holds. Honda claims that the shallow, open cargo area behind the seats and over the battery pack provides a total of 16.3 cubic feet of space, but only a modest portion of that volume is usable for cargo. A small covered bin at the rear adds 1.5 cubic feet. Except for a roomy glove box, there's not much else for storage. Unusual exterior styling results in a long, tunnel-like view out the rear, with a large window in the hatch lid and a smaller pane below.

A large digital speedometer dominates a small, somewhat cluttered gauge cluster. Smaller gauges and warning lights display instant and average fuel economy, and they also indicate when the electric motor is operating. Power locks and windows, a cassette player and a rear-window defogger are standard. Air conditioning is the only major option.

Under the Hood
The drivetrain consists of a 1.0-liter three-cylinder engine rated at 67 horsepower (65 hp with the CVT transmission), augmented by a small electric motor that adds 7 hp. The gasoline engine is the primary power source, and the electric motor kicks in to deliver a boost for faster acceleration from low speeds and when needed for highway passing. A 48-pound, 144-volt battery pack that consists of 120 cells is mounted behind the seats to supply power for the electric motor. A five-speed-manual gearbox and a CVT are the two available transmissions.

Honda calls its hybrid system Integrated Motor Assist. When the Insight is cruising, the gas engine recharges the batteries, so owners never have a need to plug the car into a charger. When stopped, with the manual transmission in Neutral, the gas engine shuts off to save fuel. It restarts automatically when the transmission is shifted into a drive gear. Antilock brakes are standard.

Driving Impressions
The manual-shift Insight is sporty in appearance and overall feel and is fun to drive. It can be surprisingly vigorous when accelerating from a stop. Regular downshifting is necessary for passing, and like other small cars, you need to be in the proper gear to get adequate passing and merging performance. Don't expect a huge blast of energy when tromping on the gas pedal to pass. The electric-motor boost is helpful, but not necessarily dramatic. Even with both engines operating, the Insight doesn't feel exactly packed with surplus power.

The Insight starts up in the normal way, by turning the ignition key, but the starter motor is exceptionally quiet — in fact, it's barely discernible. An upshift indicator suggests the best time to change gears for peak gas mileage, and the Insight can be driven in a higher gear than most cars for a given road speed. "Lugging" in an upper gear ratio is permissible.

A graduated fuel-economy meter keeps the driver abreast of mileage, and getting the most frugal result can be almost like playing a video game. It can take some effort to avert one's eyes from the gauge, so keeping it concealed most of the time might be prudent. Honda claims that highway driving tests have yielded more than 80 mpg. Because the Insight is a two-seater with limited cargo space, it works best as either an urban commuter car or a second or third vehicle for an environmentally conscious family. Recharging is never needed. Even if the batteries go dead — which could happen on a long uphill grade, for instance — the gasoline engine continues to function normally, charging the batteries once again when the car begins to travel downhill.
---
People Who Viewed this Car Also Viewed
Select up to three models to compare with the 2002 Honda Insight.
2007 Mazda Mazda5
Asking Price Range
$3,167–$9,699
Compare
2015 Hyundai Santa Fe Sport
Starting MSRP
$24,950–$33,000
Compare
2010 Suzuki SX4
Asking Price Range
$4,432–$9,736
Compare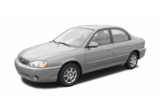 2003 Kia Spectra
Asking Price Range
$66–$5,154
Compare
2012 Kia Optima
Asking Price Range
$9,143–$18,191
Compare
2010 Hyundai Accent
Asking Price Range
$3,282–$9,134
Compare
Featured Services for this Honda Insight