Now in its 12th model year, the Honda CR-V remains one of the best-selling compact SUVs on the market, ahead of veterans like the Ford Escape and Toyota RAV4. As of Dec. 1, it was 2008's best-selling SUV and No. 10 in overall sales behind three full-size pickups and six cars. Not bad for an SUV in a year marked by a flagging market and high fuel prices.

The auto market doesn't lie. The best products reveal themselves through sales numbers. However, sometimes the market can be slow to catch on, so we revisit the leaders as the landscape changes. The CR-V was redesigned for 2007, and though it's well-rounded and deserving of its success, a couple of shortcomings are evident.
Handling the Ride
The CR-V's ride quality was the first thing I noticed when I hit the road in a 2009 model. It felt rougher than that of other popular car-based SUVs. As a reviewer, I'm careful not to jump to conclusions; road surfaces vary, and something like a washboard surface can make one test vehicle seem worse than another solely because of a difference in wheelbases. But I gave the CR-V a week's workout and drove it back-to-back with two 2009 competitors, a Ford Escape and Subaru Forester, and I'll go so far as to say its firm ride is the CR-V's distinguishing characteristic.

Specifically, it doesn't isolate you a lot from the road. You know when the surface is uneven, and that includes when it's only slightly uneven. This isn't about the car's ability to absorb a big shock. I hit some major potholes, and it soaked them up quickly and well, with no dramatic aftereffects. But in the course of just driving along, there's simply a lot going on; the body is on the move. Both of the other models do a better job of hiding road imperfections, with the Escape as a clear leader. It might give up a little in terms of handling and body roll, but I think it's a much better compromise.

The CR-V also pitches in a way the other two don't: The nose and tail tend to rise and fall in opposition to each other, setting up a rocking motion. This isn't a matter of dive or squat, which can happen in some cars when you brake or accelerate hard. In my test car it happened when cruising along over roads that weren't especially bad. Note that both of the models to which I compared the Honda were redesigned for 2009, which underscores why we took a fresh look at the CR-V.
Acceleration
Typical of four-cylinder compact SUVs, the CR-V is no rocket. You'll do 0-60 mph in around 10 seconds. Our all-wheel-drive test vehicle felt adequately powered, but compared to competing models of similar weight, its torque rating is a little lean. This means you need to goose the pedal and raise the engine speed to get to the power zone. When the rpm get high, the engine gets loud but remains smooth. In normal driving, it's admirably quiet. The opposite would be the Escape, which drones under normal conditions and sounds a little rough.

In general, Honda's approach is a good one: modest power and high efficiency at low rpm, and more guts up high when you need them. Unfortunately, the resulting mileage isn't what I'd expect. Taking a look at the most efficient comparable models (equipped with automatic transmissions and two-wheel drive, where offered), the CR-V's combined city/highway mileage is in line with the Escape and the 2.4-liter Jeep Patriot, at 23 mpg. It's ahead of the Saturn Vue, Mitsubishi Outlander, Subaru Forester and Hyundai Tucson (all 22 mpg) as well as the Suzuki Grand Vitara (21 mpg) and Chevy Equinox (20 mpg with its six-cylinder engine; no four-cylinder is available).

The CR-V trails the 2.0-liter Jeep Patriot, Nissan Rogue and Toyota RAV4, all of which are rated for 24 mpg in combined city/highway driving. Rated at 22 mpg combined, the CR-V with all-wheel drive compares more favorably, tying or beating all but the Rogue AWD and RAV4 4x4. If mileage doesn't concern you, several other compact SUVs offer larger or turbocharged engines for quicker acceleration, at a price.
The Inside
The CR-V's interior improved markedly with its 2007 redesign, but even back then I found the materials to be of inconsistent quality. The surfaces are soft where they need to be, and the gloss level is nice and low, but I think the metallic-look trim appears cheap. In particular, the door handles are shiny and plasticky. Once again, models redesigned or introduced in the past couple years had an opportunity to leapfrog the CR-V — and they did. The Vue and Volkswagen Tiguan are examples. They're more expensive, but the CR-V isn't the most affordable in the field either.

I find the RAV4's front seats a bit uncomfortable due to a short bottom cushion. On its own merit, the CR-V's driver's seat is more comfy, but there were times I wished it would cushion me more, because the suspension clearly doesn't. I was also baffled by the center armrests — one on the inboard side of each front seat. They angle too sharply upward and aren't adjustable. They're either down or up, and if you recline the backrest much they reach for the sky like a mortar tube.

The CR-V's interior dimensions are comparable to its competitors. The backseat is reasonably roomy, thanks in part to its ability to slide forward and back. While this feature is most useful in an SUV with three rows of seats, here it lets you choose where the extra space goes: to the backseat passengers or the cargo area. (In the compact SUV class, the RAV4 and Outlander offer seven seats ... if you can count their third rows as seats.) The backseat's bottom cushion is split 60/40, but the backrest is split 40/20/40, with each segment independently adjustable — a rare feature.
Cargo
The three-way-split backrest also grants more cargo flexibility because you can fold the center down to create a pass-thru flanked by passengers. Most backrests fold in 60/40 segments. Less agreeable is the way the folding seats operate: When the backrests are lowered, they're still way taller than the cargo floor. You can pull a strap at the rear and tumble them forward 90 degrees, which helps, but it isn't what most people prefer. A backrest that folds flat with the cargo floor in one step is ideal. The forward-and-back adjustment, reclining backrests and nested head restraints are progressive features, which is why the old-school tumble seems, well, regressive in a five-seat SUV.
CR-V in the Market
People often ask what makes a particular model worth the sales price. The answer couldn't be simpler: a buyer willing to pay that price. While the CR-V isn't a price leader in the compact-SUV class, buyers are more than willing to pay, making it the best-selling SUV in this troubled market. There's much to recommend it, including an exemplary reliability history and crash-test results second only to the VW Tiguan, according to the Insurance Institute for Highway Safety. The wisest shoppers will always survey the whole field, though, and see what has come along recently. They'll also scrutinize the ride quality; it's something you simply can't change after you buy.
---
People Who Viewed this Car Also Viewed
Select up to three models to compare with the 2009 Honda CR-V.
2013 Honda Insight
Asking Price Range
$8,840–$17,440
Compare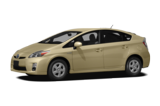 2010 Toyota Prius
Asking Price Range
$6,639–$15,735
Compare
2016 Lexus GS 200t
Starting MSRP
$45,615–$45,615
Compare
2017 Volkswagen Jetta
Starting MSRP
$17,895–$27,895
Compare
2010 Nissan Rogue
Asking Price Range
$6,965–$14,673
Compare
2008 Volvo S60
Asking Price Range
$3,624–$13,004
Compare
2017 Audi A4 allroad
Starting MSRP
$44,000–$44,000
Compare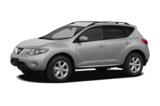 2009 Nissan Murano
Asking Price Range
$7,573–$17,041
Compare
2017 Dodge Journey
Starting MSRP
$21,145–$33,845
Compare
Featured Services for this Honda CR-V