Average Ratings
---
30 out of 31 people recommended this car.
---
Great Value
by Mitty from West New York, NJ | May 29, 2016
I had a Civic SI four years ago, and I liked it so much, I bought one again about a month ago. It's fun, reliable and economical. Pros- respectable pep for a five-speed, very good space for a hatch, unique styling (only the 03, 04 and 05 SI had the EP body style), and very good fuel economy, especially for a 13-year old car. The elevated shifter (right below the CD player, which is close to shoulder level) is a nice touch; I haven't seen a shifter placed at that position outside of old-school, super-custom, super- fabricated American hot rods. It sits high in comparison to its rivals (GTI, Integra, RSX), with more interior space and a gentler ride. Cons-Even at this hp level (160), it could use another gear. The sound system is pretty weak (as with most basic Honda systems), and body roll is more pronounced that in a comparable GTI or Integra. Additionally, you don't realize the value of a rear camera until you need one and don't have one; when you inevitably buy a sound system, get one with a rear camera hardware included. Bottom line - I love this car :) Some people don't like the engine braking on downshift; laser-quick downshifting or downshifting without braking will slam you back in your chair, as if Hercules himself served you a two-handed shove into your chest with furious anger. I actually love this ability; the exhaust note is better than average, even with a stock system. I know this car will last me for years, until my taste in cars change. I just wish more Type R's were available :(
Purchased a new car
Uses car for Commuting
Does recommend this car
---
Most reliable safe car
by Civic Lover from Lynchburg, VA | March 6, 2015
I owned the 2dr 2003 Honda Civic EX this car was previously owned to a couple and they treated the motor bad. When i bought the car from the dealership it had problems and i had to put a quart of oil in it every 700mi. I put too much oil in it once and it was still running like a champ. I would recommend this car to any and everyone. Just yesterday i was coming around a curve and loss control of the car on ice and i crashed into a tree without a seat belt on and i walked away with minor cuts and scrapes. The car is totaled and im well. Im looking for another, I was so attached to my car it fit all of my needs and wants.
Purchased a new car
Uses car for Commuting
Does recommend this car
---
Hondas are good cars.
by car emthusiast. from gatlinbuerg ,tn | July 9, 2014
Came in and got a good deal.I 2ould recommend this lot to all my friends. Bought it...love it!!!! Can't wait to get home to brag about it..
Purchased a new car
Uses car for Commuting
Does recommend this car
---
Good to Deal With
by Looking for a Honda from Eureka | April 29, 2014
I was looking for a used Honda and found one at this dealership. They were courteous and friendly and went out of their way to accommodate me. I even came to Fairbury after hours and they answered the phone to help me. I would highly recommend this dealership to anyone looking. Well worth the trip to Fairbury!
Purchased a new car
Uses car for Commuting
Does recommend this car
---
Great Car for College
by CollegeStudent from | January 2, 2014
This is a great car - roomy, amazingly reliable, and fuel efficient. Once every two weeks I drive for 4 hours at 70 mph from college to home and back, and I feel confident I wont break down in the middle of nowhere. It might not feel like I'm sitting in the lap of luxury and I really need to push a little to go around slower commuters, but its easy to drive, and always gets me there for only $30 (avg amount to buy full tank of gas in the Virginian wilderness). This is a true Japanese made quality car. I also love the beige and brown interior of my Honda, makes the atmosphere much brighter inside. Right now mine has 120,000 miles and still runs like new! (with no major repairs).
Purchased a new car
Uses car for Commuting
Does recommend this car
---
Crazy reliable
by Carter from Columbus, OH | November 18, 2013
This car isn't the quietest or smoothest but it insanely reliable. Purchased car at 47k and now have 125k and have only spent $260 total in 6 years on non-routine maintenance repairs. Gas mileage is great at 28-30 city and 36-38 highway. Not a car meant for long trips as it isn't too comfortable but for a daily driver it will save you tons of $$$.
Purchased a new car
Uses car for Commuting
Does recommend this car
---
Honda, Honda Honda
by ZoomDaddy from Rochester, NY | February 11, 2013
This has been a great vehicle! I bought it used in 2005 with 53,000 miles. It now has 174K miles and I've had very little extra maintenance. Even the additional work was not costly. I still have the original clutch & it's still getting around 38 mpg! It's definitely not the quietest or smoothest vehicle, but that was not it's purpose. I had the inspection done last week and the Honda mechanic said there should be no reason to get at least 200,000....here we go!!
Purchased a new car
Uses car for Work
Does recommend this car
---
100% better than GM cars I owned in the past.
by First time Civic owner from Melrose Park, Illinois | December 11, 2012
Paid $10k for a used 2003 Civic Lx back in 2007. It's the best car I,ve owned in 40+ years of driving.
Purchased a new car
Uses car for Transporting family
Does recommend this car
---
Honda Civic update
by Jsport from Maryland | September 27, 2012
Nice runaround car but it lacks engine guts. I even have a stick and you really have to be careful pulling out in traffic. Also the 2003 model needs a transmission job on the manuel shift which we did after buying a used model $1400 ouch! But it gets 30-35 city and 38-40 hwy. My next car is going to be the new 2013 Nissan 2.0 with 27city and 37 hwy and drive a bigger car, automatic, and look goood! Good luck, talk them down unless it has the trans job done already.
Purchased a new car
Uses car for Commuting
Does recommend this car
---
Honda Civic Coupe 2003 okay, but can be tricky
by bubba from Lansing MI | August 6, 2012
This is a great car. I like the 5-speed and it gets very good gas mileage. However we had to replace the engine just after we bought it (used). The previous owner apparently used the wrong kind of oil or something else happened which blocked the small channels used to circulate the oil through the engine. As a result, it burned oil like you wouldn't believe. The Honda Dealership said it was too expensive to repair and recommended replacing the engine, whcih we did. It runs fine now; However I would note that this is a potential trouble spot for that engine. We also replaced the muffler. Car has a timing belt rather than a chain. These must be replaced at about 100,000 miles. If it fails, the whole engine will be ruined. Serious risk. Newer models have a chain instead -- more reliable.
Purchased a new car
Uses car for Work
Does recommend this car
---
People Who Viewed this Car Also Viewed
Select up to three models to compare with the 2003 Honda Civic.
2009 Nissan Altima
Asking Price Range
$5,290–$12,518
Compare
2007 Toyota Prius
Asking Price Range
$3,629–$10,705
Compare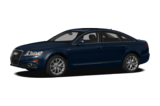 2011 Audi A6
Asking Price Range
$13,732–$25,896
Compare
2011 Volvo S60
Asking Price Range
$7,855–$25,451
Compare
Featured Services for this Honda Civic