SOMETIMES YOU need a tank at the beach -- something to intimidate the motorized opposition, to take the road less traveled to that favorite spot by the water, something that can house you when sun and surf turn to wind and rain. You need a 1995 four-door, four-wheel-drive, GMC Yukon, also sold as the 1995 Chevrolet Tahoe. The Yukon and Tahoe are big hugga-mugga truck-wagons designed to be a bit more maneuverable than the bigger GMC/Chevrolet Suburbans. General Motors says the Yukon and Tahoe are "right-sized," which implies that the gargantuan Suburbans are "wrong-sized," even though the company's publicists don't say that. I've fallen in love with the Yukon, which I drove for 1,000 miles or so in sunny and nasty weather, beach and urban traffic, carrying loads of stuff and lots of people. The Yukon does a better job handling those tasks than the Jeep Grand Cherokee, Ford Explorer, Isuzu Trooper and Nissan Pathfinder. For that matter, for urban hauling and beach-type off-road applications, it beats the wheels off the Toyota Land Cruiser and the splendiferous Range Rover 4.0 SE. None of that means the Yukon is perfect. When lightly loaded, its rear end bounces like a basketball on lousy roads, such as the pock-marked, rutted and blistered New Jersey Turnpike. But considering its comfort, utility, performance, overall design and price, the Yukon is very nice. Background: Let's face it: GMC/Chevrolet Suburbans are a pain in the butt to operate in the city, which is why GM created the smaller four-door Yukon and Tahoe. The Yukon and Tahoe have a 111.5-inch wheelbase -- the centerline distance between the front and rear wheels -- compared with 131.5-inch wheelbase for the GMC/Chevrolet Suburban models. Overall length is 188.5 inches for the Yukon and Tahoe, compared with 220 inches for the Suburbans. But the Yukon and Tahoe are slightly wider (77.1 inches versus 76.7 for the Suburbans); and they're 2.2 inches taller(72.4 inches versus 70.2 inches for the Suburbans). Those differences give the Yukon and Tahoe certain advantages. For example, I could park the tested Yukon on New York City streets without much hassle. But trying to do the same thing with a Chevy Suburban drew derisive laughter and insults ("You stoopid? You stoopid? Get that big thing outta here!"). Also, the Suburbans look, well, suburban. But the shorter Yukon and Tahoe look more muscular, more aggressive, which means they have more of an intimidating presence, which comes in handy when some turkey tries to cut you off in beach-bound traffic. The Yukon and Tahoe come with two or four doors, and two-wheel or four-wheel-drive. A driver's air bag is standard, as are power front disc/rear drum brakes with an anti-lock backup system. A heavy duty, electronically controlled, four-speed automatic transmission is standard on the four-door Yukons and Tahoes and optional for two-door models. The stan dard Yukon/Tahoe engine is a butt-kicking, fuel-sucking 5.7-liter V-8 rated 200 horsepower at 4,000 rpm with maximum torque set at 310 pound-feet at 2,400 rpm. Both the Yukon and Tahoe can carry up to six people, and can be outfitted to haul 1,676 pounds of cargo and pull a 7,000-pound trailer. Lordy! We're talkin' lotsa muscle! Complaints: No front-passenger air bag. A bit too much power assistance in steering, which makes steering feel a tad loose. Rear bounciness on bumpy roads when the vehicle is lightly loaded. Praise: Design and construction, utility, excellent passenger comfort,, very good highway performance, competitively priced. Head-turning quotient: Drew favorable looks everywhere. Ride, acceleration and handling: Excellent acceleration, even heavily loaded. Excellent ride and very good handling when loaded. Fair-to-good rear ride and good handling when lightly loaded. Braking was excellent. Mileage: Ha, ha, ha.. In the tested fo r-door, four-wheel-drive Yukon, about 14 to the gallon (30-gallon tank, estimated 390-mile range on usable volume of regular unleaded), combined city-highway, off-road (gravel road, sand and grass), running with one to four occupants and 1,300 pounds of cargo. Sound system: Optional six-speaker, AM/FM stereo radio and cassette with compact disc, by GM/Delco. Excellent. Price: Base price for the tested four-door, 4WD, GMC Yukon SLE is $28,585. Dealer invoice on base model is $25,012. Price as tested is $31,861, including $2,626 in options and a $650 destination charge. The base and dealer invoice prices on the comparable four-door, 4WD Chevrolet Tahoe LS are identical to those for the Yukon SLE. Destination charge for the Tahoe is $40 less. Purse-strings note: Excellent value. Compare with the high-line versions of the Nissan Pathfinder, Jeep Grand Cherokee, Ford Explorer. Also compare with the Range Rover 4.0 SE and the Toyota Land Cruiser.
---
People Who Viewed this Car Also Viewed
Select up to three models to compare with the 1995 GMC Yukon.
2012 GMC Canyon
Asking Price Range
$12,290–$27,418
Compare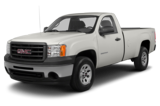 2013 GMC Sierra 1500
Asking Price Range
$20,278–$36,426
Compare
2012 Chevrolet Colorado
Asking Price Range
$6,429–$26,617
Compare
2007 Chevrolet Silverado 1500
Asking Price Range
$7,205–$23,265
Compare
Featured Services for this GMC Yukon