This East Texas town is so removed from Washington in distance and thought, the residents have a hard time figuring out the mind-set of the nation's capital. Take Washington's neuroses over rising sales of sport-utility vehicles, such as the 1998 GMC Suburban SLT that I drove here. Marshall's folks don't understand what all the fuss is about. "You say people in Washington are worried about big trucks crushing small cars?" asked Jay Denson, sitting in his uncle's fully loaded, full-size GMC Sierra pickup in a church parking lot. "Yeah," I said. "They believe too many trucks on the road makes things dangerous for people in cars." "That's the dumbest thing," Denson said. "Y'all don't have no farms up there? Farms! Ranches! You got animals of all sizes on farms and ranches, cows and pigs, cattle and chickens. The damned chickens have sense enough to stay out of the way of the damned cows!" Denson pointed to the Suburban SLT that I was test-driving, parked next to his pickup. "We got lots of 18-wheelers round here. Be careful. To them, your Suburban ain't nothin' but another chicken." The good thing about sport-utility vehicles, especially ones as big as the Suburban SLT, is that they help you to overcome humiliation. I rose above Denson's put-downs the moment I climbed behind the Suburban SLT's wheel, where I felt like king of the road, lord of the flies. It was more than a feeling. The Suburban SLT is 18.3 feet long, 6.4 feet wide, 5.9 feet high. Its rear axle clears the ground by 6.6 inches. Its driver's seat is thus akin to a throne, from which you look down on everything except, of course, those 18-wheelers. You'd think that, with its size and weight -- it tips the scales at 5,297 pounds in the tested four-wheel-drive version -- the Suburban SLT would be a beast to drive. It's not. The test truck handled so easily, some of the folks here complained that it was not "trucky" enough, which, to them, is an insult. It didn't muchhelp matters that the test vehicle came with soft leather seats, which some of the local people disparaged as foppish, playboy stuff. Nor were they impressed with the Suburban SLT's optional OnStar system, a guidance, emergency aid and vehicle-tracking system that links the vehicle to a 24-hour communications service via geo-positioning satellites. I found OnStar useful for directions on the nearly 3,000-mile trip from Washington to Texas to Louisiana and back. But a couple of folks I spoke to here regarded OnStar as a silly excess. "Don't you know how to use a map?" one asked. But everybody praised the Suburban SLT's 5.7-liter V-8 engine, which produces 255 horsepower at 4,600 rpm and 330 pound-feet of torque at 2,800 rpm. "A monster," said the owner of a 1992 Suburban. "Kicks plenty of butt," said another citizen, who regularly drives a Ford F-250 pickup with a double rear axle. No one I spoke to here complained about the Suburban SLT's appetite for fuel or its supposed co ntributions to global warming. There are just too many farm tractors, trailers, combines and cows in these parts to worry about what's coming out of the tail pipe of a truck, some of the region's folks said. "Shoot. You wanna get a whiff of global warming, you just hang around one of these farms on a hot summer's day," said a man in nearby Shreveport, La. 1998 GMC Suburban SLT Complaints: The instrument panel is ergonomically distressing. The dashboard is too long, and the dials, such as those for the radio and climate- control system, are too far apart. GMC should do to the Suburban's panel what it did to the one in the smaller 1998 Jimmy -- slant the controls more toward the driver. Praise: Just a fine, big, well-made truck that can pull a 6,000-pound trailer, seat seven people and carry up to 2,003 pounds of stuff. Head-turning quotient: The Suburban SLT looks a lot better in rural areas and small towns than it does in the city, where it draws hostile looks from garage attendants. Ride, acceleration and handling: As good as it gets in a big truck. But real truckmeisters complain that the ride is too soft. Excellent braking (power front discs/rear drums with antilock backup) on a variety of surfaces. Mileage: About 16 miles per gallon. Fuel tank holds 42 gallons of recommended 87-octane unleaded. Average travel range with four occupants and 800 pounds of cargo was 650 miles. Sound system: AM-FM stereo radio and cassette with console-mounted, single-disc CD player. Installed by GM/Delco. Okay. Safety: Ha! Just wear your seat belts, stay out of the way of 18-wheelers and pray that everything smaller than a Suburban stays out of your way. Price: Base price is $28,129. Dealer's invoice price is $24,612. Price as tested is $37,742 plus a $675 destination charge. Purse-strings note: The Suburban is the biggest sport-utility vehicle available. It's not for everyone. Check out the Ford Expedition, Chevrolet Tahoe/GMC Yukon, Toyota 4Runner, Nissan Pathfinder, Dodge Durango and Mitsubishi Montero, all of which are big enough to handle most civilian transportation needs.
---
People Who Viewed this Car Also Viewed
Select up to three models to compare with the 1998 GMC Suburban 2500.
2001 GMC Sierra 2500
Asking Price Range
$4,314–$15,834
Compare
2001 GMC Savana 2500
Asking Price Range
$1,603–$8,203
Compare
2013 Audi Q7
Asking Price Range
$30,690–$49,346
Compare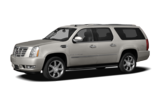 2008 Cadillac Escalade ESV
Asking Price Range
$15,814–$32,070
Compare
1996 GMC Savana 3500
Asking Price Range
Price Coming Soon
Compare
2013 Chevrolet Equinox
Asking Price Range
$13,357–$23,565
Compare
2012 Mercedes-Benz GLK-Class
Asking Price Range
$20,080–$31,944
Compare
2006 GMC Sierra 3500
Asking Price Range
$10,148–$32,848
Compare
Featured Services for this GMC Suburban 2500