Average Ratings
---
24 out of 29 people recommended this car.
---
loooove this car!!!
by tricey from sacramento ca | January 15, 2016
this was my first dodge car so i didnt know what to expect. the car run sooooo smooth and i absolutely love the way it grips the road when i am turning. everything just flows so well in the car.. it is a winter month and my car heats up very fast when i turn on the heat i just love it in the early mornings. though there is alot of cheap looking plastic in the interior it still looks very elegant ...it has six cup holders total..back seats can go down for more trunk space...under the hood looks so new and perfect and clean. its been six months so far and it has been my most reliable friend.
Purchased a new car
Uses car for Just getting around
Does recommend this car
---
Reliable
by murica from | September 30, 2015
very reliable even though we got it in 2012 after it went through a crash and had hood damage and wont go up to 4 on the ac and the ignition has problems every few years all because of the crash it is still very reliable for an i4 engine. It is great on the interstate and gets roughly 28 mpg
Purchased a new car
Uses car for Just getting around
Does recommend this car
---
I have a Dodge Avenger
by I love the Dodge Avenger from New york ,ny | July 24, 2015
The car is a little noise on the inside but not to bad the car rides good the suspension is awesome and has may have to much power for a teen but not enough for adults so I would recommend this to anyone out there thank
Purchased a new car
Uses car for N/A
Does recommend this car
---
Pleasantly Suprised
by Dodge Newbie from Coppell, TX | June 9, 2015
This was my first Dodge ownership. I had just sold my Hyundai Sonata which was a very nice car and saw the Dodge Avenger at the dealership. I had never seen or heard of the Avenger before, but the Fire Red, Deep Tinted window with the bold body stance caught my attention. I took it for a test drive and was amazed at how much more comfortable it was that the Sonata. I am a big guy and the 42" leg room was very welcome. The suspension, steering and handling all worked together in providing a very pleasurable ride. I especially like the handling of the suspension system, it just was much better than the Sonata. In reading some of the other reviews, they mentioned that there were blind spots and that the visablility was limited, I never found that to be the case whatsoever! Visibility is very good. I do agree that the rear view mirrors are not that big, however, adding some fish eye mirrors increased the side visibility (I do that with all my vehicles). I also had read some "professional" reviews and have to disagree with them as well. This is a clean, efficient, nice looking vehicle and is well worth any one's investment. I'm writing this in 2015 and the Avenger has been cancelled from production, however, it is carrying on in the Chrysler line as the 200, with awesome enhancements.
Purchased a new car
Uses car for Commuting
Does recommend this car
---
Love my Avenger
by Mom from Morton, IL | November 17, 2013
Had a good experience at Sam Leman in Morton. Errol "Big H" Halverson was a wonderful salesman to work with. I would recommend him and Sam Leman.
Purchased a new car
Uses car for Transporting family
Does recommend this car
---
Fantastic Car
by Dodge Girl from Streator, IL | August 12, 2013
I bought mine used about a month ago. It had low miles on it, ran great on test drive, wonderful performance on the R/T. I've had no problems with comfort although I have leather seats. I've test driven a newer one with cloth seats and it wasn't as comfortable as the leather. This car is fun to drive and has that mean meaty look to it. Mine came loaded with a 6 disc changer, heated sets and mirrors, moon roof, electric drivers seat, and audio buttons behind the steering wheel. I couldn't ask for more! This car runs smooth, and is a very quiet ride. I travel a lot and I find it very very dependable and comfortable. Comfort is a big deal for me since I have had 3 major spinal surgeries.
Purchased a new car
Uses car for Commuting
Does recommend this car
---
Excellent Car
by First car purchase from Dallas, Texas | February 20, 2013
Let's get one thing straight, STAY AWAY from professional reviews of this car. More than likely it's some old white dude who drove the car for an hour and is Camry/Accord biased. Trust the reviews of those who actually purchased the vehicle and spent time with it, such as myself. Drives well with a smooth and responsive ride, has no problems on freeways or hills. Accelerates well for a V-4 and doesnt shake or stumble. Interior - Awesome interior for the price you pay. R/T is what I got, leather interior, power everything heated seats, six disc CD, aux input, and the list goes on. Exterior - This is where it gets interesting. Ever see a young man in a 2005 Camry/Accord and think "that dude is probably a friendless virgin?" Not so in the Avenger. Hella clean lines, imposing stance, wide frame. Head turner for both the ladies and the gents. Price - 30%-45% less than competitors, for more features and more attitude in the car you buy. Bottom line: Ignore the stereotype of Japanese cars being more reliable (since it was probably made in a Toyota/Nissan plant in Georgia), all are on a level playing field nowadays. For price/quality/durability/swag this car is on another level. Go out and buy, you won't be disappointed.
Purchased a new car
Uses car for Commuting
Does recommend this car
---
Great car by Dodge
by kmoshier19 from NC | December 2, 2012
I love my 2010 R/T. This is truly a car that you need to trust the owners! I know the bigger review companies bash anything that isnt a Camry or Accord but the avenger is a good car! Is it the best and most powerful? No but if you want a great looking car that has many great features and will get the job done, its a great car!
Purchased a new car
Uses car for Just getting around
Does recommend this car
---
Good Running Car, Quite Ride
by Happy Owner from Bullhead City, AZ. | May 25, 2012
Bought the R/T Model Car Used, and so very satisfied. I Traded in a Dodge Caliber for this Car and feel it was a great choice.
Purchased a new car
Uses car for Just getting around
Does recommend this car
---
Not So Safe - but good power for a 4 cyl.
by Mom Of 2 from Victoria, BC | March 20, 2012
I bought this car used, in the summer of 2010. I have a 4 cylinder. I get the oil changes every 5000km and whatever service recommended every 10,0000. I am coming up to my 70,000 service soon and no problems Problems: -BLINDSPOTS!!!!!! Yesterday I was driving and an entire Jeep was hidden to the front/right of me - basically at my 2 o clock. You have to lean forward and back to check that blindspot and it's HUGE. To shoulder check the middle of the side windows is a huge blindspot too. The black plastic on the back passenger windows creates another huge blind spot. The side mirrors are small too, If I'm going to have such huge blindspots at least give me an extra inch on the sideview mirrors, please. -Trunk design is poor. I am in a rainy climate and my stuff gets wet a lot because rain gathered on trunk lid pours onto my groceries or stuff stored in my trunk. Packing for a family of 4, I'd like a bigger trunk, but if you aren't packing as much as I do, it might not be a big deal for you -Recently, the parking break light turns on every once in a while, for no apparent reason. -Legroom could be better. I had to change my son into a booster seat with no back, from a booster seat with a back, because his legs wouldn't fit comfortably if the front seat was all the way back Positives -Fuel Economy is good. It's a large gas tank, so it'll last you almost 2 weeks if you're just going to and from work and not commuting. This car was also great for a road trip. In fact, it's the reason I'm concerned about changing vehicles. -For a 4 cylinder, I think it's great performance. If people have problems with high speed performance, what are you doing driving a 4 cyl at high speeds. How I gauge performance is a steep hill on the highway in North Vancouver on HWY 1. It's around the Mountain Hwy Exit. It gets up that hill fine at 70km. I could go 80 km probably 90, but I don't like to put that kind of strain on my engine, and neither should you if you love your car. I drove a 4 cyl up that hill that almost put me to a stop I was lucky if I was going 40km. So, compared to that other poor excuse for a car, it was GREAT. -I'm a bit of a fast driver, but I like fuel economy over speeding, so I try to stick to the speed limit, max 10km over, so when I'm in a 90 zone going 100km the engine is just fine. But you want this car for it's economy not it's speed. -In my opinion, this car accelerates well. I've compared the horsepower of this car (on cars.com) to similar cars and this vehicle is better. -Exterior design is really nice. It's what really drew me in. I like that it's a related look to the Challenger and Charger. -You can raise the driver's seat up if you want. I like being up as high as possible. You can fit a carseat, booster seat and a 9 year old fine in this car - I've sat in the back seat with my kids in their carseats and I'm an adult of average height and weight. If you want to put 3 adults, might be a can of sardines, but not so bad. Ultimately, I would keep this car for it's fuel economy and performance, however my family is growing. I have a dog, and two kids and this doesn't fit my life anymore. However, I would prefer a car with less blindspots, they are stressful.
Purchased a new car
Uses car for Transporting family
Does not recommend this car
---
People Who Viewed this Car Also Viewed
Select up to three models to compare with the 2010 Dodge Avenger.
2016 Chevrolet Equinox
Starting MSRP
$22,600–$31,690
Compare
2016 Chrysler 300C
Starting MSRP
$38,555–$45,190
Compare
2017 Volkswagen CC
Starting MSRP
$34,475–$37,820
Compare
2017 Chevrolet Trax
Starting MSRP
$21,000–$27,600
Compare
2014 Hyundai Elantra
Asking Price Range
$9,745–$16,861
Compare
2012 Honda Accord
Asking Price Range
$10,072–$18,072
Compare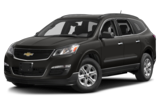 2016 Chevrolet Traverse
Starting MSRP
$28,700–$44,145
Compare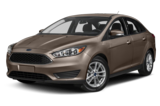 2016 Ford Focus
Starting MSRP
$17,225–$23,725
Compare
Featured Services for this Dodge Avenger