Average Ratings
---
14 out of 14 people recommended this car.
---
LOVE THIS CAR
by Chrysler Fan Boy from Birch Tree, MO | April 13, 2015
I drive the 2007 Chrysler 300C all of the time. It is my first first time owning my vehicle and I LOVE IT! It has already been worth the money I paid for it! With the automatic headlights, windshield wipers, cruise control, radio controls from the steering wheel, all I have to do when Im driving long distances, is steer. I love all the bells and whistles this car comes with. Climate control, front seat warmers, sunroof. A sweet little surprise was how good the audio system was. I also love how quite and comfortable the car is. As heavy and big as it is, you'd expect more roll, but this thing takes turns just fine. This car is also an absolute blast to drive! Being in high school, all two of my friends love my car. It is something I am proud of. I
Purchased a new car
Uses car for Just getting around
Does recommend this car
---
Colorado tested
by Myfirstsedan from Colorado Springs, CO | January 22, 2015
I have only ever owned 4 wheel drive jeeps and pick up trucks. Living in Denver then Colorado Springs, and working in Monument I was really worried about driving a rear wheel drive 300 C during the winters, but after the first single digit temp. ice and snow storm that brought 7 inches of snow on top of a sheet of ice, I have never been so confident. All I have is a good set of all weather tires on her, and I am amazed at how great it handles in severe (Colorado) snow. The anti lock breaking system and the slip control blew my mind. Yes, in my wrangler I can move up hills without a blink in 4 low on ice(a 1997 4 banger), but I swear this car actually "walks" up the ice, and having to stop on down hill slopes is never a problem once you gear down and let the anti lock do its job. And of course I must mention this....people still stop me and tell me, "hey, that is a really great looking car!" My 8 year old used car in silver with tinted windows, stock rims and large all weather tires....LOL. For me, this car is a modern classic.
Purchased a new car
Uses car for Work
Does recommend this car
---
Blown away by this car
by Medic/Gear Head from Mechanicville, N.Y. | July 30, 2014
For a long time, all I bought were SUVs, b/c I'm 6' 5" tall, and I weigh enough...sedans we're just not an option. My Jeep met with an untimely demise, and my rental insurance was enough that I could drive the 2013 300C for $7/day. I fell in love with the interior room, the luxury, the bells and whistles, the style, the power, everything (especially the power lol). When I looked for a new SUV, I saw a 2007 300C and I stopped looking. Beautiful car, I'm comfortable for hours and hours of driving, and oh that HEMI never ceases to put a huge smile on my face.
Purchased a new car
Uses car for Just getting around
Does recommend this car
---
Chrysler hit a home run with the SRT8 package
by SRT Great from Indianapolis Indiana | May 10, 2014
Chrysler has put together the perfect balance of a luxury car and a serious muscle car in the 300C SRT8. When you first walk up to it you can't not notice the low , wide stance and the 20" SRT wheels really set the car off. When you get in you can't help feeling your in an all out luxury car , right up till you just touch the key and hear that 6.1 Hemi come to life and drop it into gear , then you have a flashback to the 70's when you got to drive your first Hemi Cuda because the acceleration is extreme and after the first corner you can't believe how tight & precise it handles Bravo Chrysler I feel like I'm 18 again tearing up the town in my 70 Challenger
Purchased a new car
Uses car for Having fun
Does recommend this car
---
60K 5.7 HEMI. Friends say "Heavy Grandpa Car" LOL
by rdsOLDschool from Titusville, FL | March 23, 2014
Upgrade Exhaust and added Cold Air Intake and Chip. 0 to 60 in the 4s .LOL seeing the fear on friend face! I always had brand new small cramped cars and spent money making them go faster. Never again I'll never go back to a green car again. This boat is a Rocket. Had some small issue's but lucky me for getting the 100,000 mile extended warranty that covers just about everything. So no problem. 15 to 22 MPG. With a heavy foot she gets 13 MPG. But I don't care. The tread off is well worth the money. The upgrads gave her around 80 up to 100 HP/Torque on a goog day. I love the body style compaired to the newer 300s. Where ever I go heads turn. Im not the fastest car around but it will get up and go when I want het too. Paid $300 under blue book. Total invest including upgread's and warranty work. Just over $18,000. Best money I ever spent on any car!
Purchased a new car
Uses car for Just getting around
Does recommend this car
---
LOVE IT
by TBAG from Green Bay, WI | July 16, 2012
We are so happy with the 2007 Chrysler 300C. All white with exterior and interior upgrades. Smooth and quiet ride with all of the luxuries we were looking for.
Purchased a new car
Uses car for Just getting around
Does recommend this car
---
Wow very impressed
by 300 SRT Design fan from Detroit, MI | January 11, 2012
Rides great, handles great, performes very well. It is a large car so if you want a small fuel efficent vehicle look elsewhere.
Purchased a new car
Uses car for Work
Does recommend this car
---
2007 Chrysler 300C with SRT Design Group
by Marty from Virginia Beach, Virginia | October 20, 2011
A beautiful and luxorious looking vehicle. After five months we began having intermittent problems with the drivers side view mirror going uncommanded full up or full down hitting the stops and jogging there for awhile. After over five trips to various Chrysler Dealers for repairs, I finally suggested that they change the mirror as nothing else helped. That fixed it (after two years of malfunctioning). Other than the large 20 inch rims causing the ride to be very bouncy it is a wonderful car.
Purchased a new car
Uses car for Just getting around
Does recommend this car
---
First Luxury Sedan I've Owned
by Daily Commuter from Ohio | February 24, 2011
I have a long commute (over 50 miles one way) and my old vehicle had over 200,000 miles, so I started looking for a replacement that would still be good in the snow and have lots of power like my Dakota 4x4 V8, but get better gas mileage and be more comfortable. I also wanted an AWD with moonroof and leather. I ended up choosing the AWD 300C. The 300C has a well balanced, comfortable ride and lots of creature comforts. (I really like automatic wipers, auto-dimming headlights, and climate control.) Downside - some areas of the car were starting to rust and had to be repainted due to poor paint coverage at the factory (shame on you Chrysler for the poor quality control!) and the highway mileage is not even close to what is advertised (even if I drive like a grandpa on the way to church on Sunday morning). Upside - very nice interior fit and finish, lots of great features, acceleration that will satisfy anyone. The combination of limited slip, traction control, AWD, anti-lock brakes, and stability control ensures that it handles very predicatably in bad weather and snowy roads. A very nice car for the money, but I spent less than half of what the sticker price was in 2007 (glad I didn't buy it new or my car loan would be upside-down).
Purchased a new car
Uses car for Commuting
Does recommend this car
---
LOVE, LOVE, LOVE this one....
by Caroline from Dallas, TX | May 31, 2009
I bought this one yesterday......sorry it's not available. it is a beautiful car and i LOVE LOVE LOVE it !!!!
Purchased a new car
Uses car for Just getting around
Does recommend this car
---
People Who Viewed this Car Also Viewed
Select up to three models to compare with the 2007 Chrysler 300C.
2013 Chevrolet Tahoe
Asking Price Range
$24,391–$44,227
Compare
2017 Mercedes-Benz C-Class
Starting MSRP
$39,500–$80,850
Compare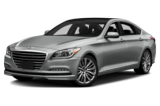 2016 Hyundai Genesis
Starting MSRP
$38,750–$53,850
Compare
Featured Services for this Chrysler 300C