Average Ratings
---
21 out of 26 people recommended this car.
---
The ultimate Luxury?
by Alan from Myrtle Beach, SC | March 30, 2015
First of all, we have owned 4-seies Lexus, S-class Mercedes, BMW, Volvo, Audi, and VW's. Don't talk to me about their great luxury and longevity! Every single one of them was a long-term disappointment. We keep vehicles for the long haul, and these expensive foreign brands are not built for it, plus, their repair costs are ridicuous. We decided to try a Cadillac, and bought (and still own) a CTS. A great car. But, we kept eyeing the DTS for long trips, and bought one. We like it much better than the more-expensive foreign cars, and after a lot of miles, it has held up very well...better than most of the foreign brands. We're past the point in life where "handling and performance" justifies the kind of car where if you drive over a quarter, you can tell if it's heads or tails. The ride in the DTS is fabulous; solid, quiet, extremely comfortable. The seats are amazing. We average 19mpg around town, and 26 on highways. Not great, not terrible. But with the kind of power that Northstar engine provides, expected. We love this car so much, that when it finally has too many miles on it, we'll find another with less miles, buy it, and repeat the process until we can't find another one. It's that good of a car.
Purchased a new car
Uses car for Work
Does recommend this car
---
DTS
by Willy from Ogden, UT | May 7, 2014
I own both the DTS and STS both 2008 models. If you know anything about Cadillac the 2011 models are virtually the same car, they made them for 6-7 years. The DTS is a little less road noise than the STS and a little smoother, not by a lot maybe 10% on both counts, but enough that I notice. The STS is a great ride and will not disappoint you, it still buffers you from the road very well. The DTS is a little top heavy compared to the STS and therefor leans a little on turns but nothing like a Ford Mercury Marquis, or Lincoln, or Park Ave Buick, or Buick Le Sabre that my father owned and I drove plenty. The STS handles like a sports car much more precise on handling than the DTS. I have driven both cars on long road trips over 1000 miles one way, and then back again. Which car do I prefer?? for the most part it is a toss up... if you want a more sporty feel take the STS, if you want a slight and I mean slight more cushion from the road take the DTS. Both champion road cruisers. By the way the V6 STS is way more powerful at sea level than it is here in Utah.. The high altitude robs a lot of power from our engines...and yes the V6 that I have on the STS is plenty quick...
Purchased a new car
Uses car for Having fun
Does recommend this car
---
Replay of the Movie Money Pit
by Buckle Bud from Denver, Colorado | February 10, 2014
Purchased the car used with 17,000 miles, 9 months old. Have many problems. Oil leak, front seal at 56,000 miles. Dealer quote $4,400, out of warranty. Cadillac offered $1,900. Heated seats quit working at about the same time. Constant clunk under drivers feet, have had to various shops, no one can diagnose but all want to replace something. Love the cars ride, have driven on numerous long trips. Just replaced left front hub $500. Just seems like it never quits. Car now has 70,000 miles, afraid of what's next. Have never fixed oil leak or seats. Just put a drip pan in garage. Not what I would expect from a Cadillac.
Purchased a new car
Uses car for Just getting around
Does not recommend this car
---
Reliable / Confortable
by Car Guy from St Cloud MN | April 21, 2013
Great American car, Nearly 300 HP My MPG is lower than the previous Cadillac, I currently get 18.5 city and 26-28 highway, depends on how fast I drive, Not bad for a full size luxury car with a potent V8, I purchased this used with 30K on it, It was certified to 6/100 bumper to bumper warranty, Its been at the dealer 2 times in the 6 years a ball joint and head light, both covered under warranty, not bad car now has over 111K on it, My wife Loves this car she is spoiled her 2nd Cadillac and she wont drive anything else, We drover other cars and keep going back to Cadillac, a bit more money but not nearly as expensive and the repairs are not as costly.
Purchased a new car
Uses car for Commuting
Does recommend this car
---
Best driving car I've ever owned
by DTS Lover from Bella Vista,AR | March 2, 2013
Rusty Estep is without a doubt the best car salesman I've ever worked with. He made sure I found just the right car for me and took care of every little detail to make sure I was completely satisfied. Rusty owns my business from now on. He's the BEST.
Purchased a new car
Uses car for Just getting around
Does recommend this car
---
07 Caddy DTS
by gazelle from Philadelphia | December 24, 2012
I have owned Caddys since 59 but this is the best by far. Comfortable, reliable and I get 21 mpg in town and 27 on the road.
Purchased a new car
Uses car for Having fun
Does recommend this car
---
A Very Good Ride
by The "Ride" from Topeka | December 14, 2012
The DTS is very tough to beat when it comes to the "ride". While the interior design is great the smooth ride is the best. I rate "performance" good and not excellent because I am not getting the gas mileage I believed I would receive. But, 22 miles per gallon on the fullest of full sized cars isn't something to take strong objection to. Oh yes, and the price for these older Caddy's are right. Get one that has really been cared for and you'll have years of driving happiness.
Purchased a new car
Uses car for Just getting around
Does recommend this car
---
2007 Cadillac DTS
by DTS from Harrisburg, PA | December 3, 2012
The comfort of this 2007 Cadillac DTS is just average. Now keep in mind this is the performance model, so the ride is not as smooth however this could be fixed with a better seat. My largest disappointment is the gas mileage. I had a 1996 Eldorado ETC with 300 HP. On average I would get 19.7 miles to the gallon. I thought that buying a 2007 DTS with 24,000 miles on it that I would get even a little better gas mileage. Not the case. I have driven the car almost 3,000 miles now and the average is 14.9 miles per gallon. Driving the car is not that hard all. No spending away from the red lights or kicking in the passing gear that often. That is just driving around fairly normal. The gas mileage is very disappointing. Now as for the interior all the controls a placed very well. The controls on the steering wheel are very well placed and trunk release and traction control are convenient. The only down fall here is the seats. If the seats were more comfortable the car would be much more satisfying. Next time for my money I would consider another SUV from another manufacturer. For now I will live with it and go to the dealership and see if I may do something about the gas mileage. Stacey
Purchased a new car
Uses car for Commuting
Does not recommend this car
---
lease dont buy
by caddy from indiana | October 31, 2012
Bought used with 38k .....after replacing both front wheel bearings......4 window motors...and now with the alum block that cracked....and i just turned 116k miles.
Purchased a new car
Uses car for Commuting
Does not recommend this car
---
Caddy Love
by LacDaddy from Columbus Mississippi | August 20, 2012
I love my car and I dont want to sell it. Im moving over seas and I have to let it go. It rides like a dream, its very comfortable. Handles well and has great acceleration and top speed. The inside has more accesories than most 2013 vehicles. This will be a great car for anyone to own, its priced low for what you are recieving. It is a very reliable vehicle, starts on the first key turn everytime.
Purchased a new car
Uses car for Just getting around
Does recommend this car
---
People Who Viewed this Car Also Viewed
Select up to three models to compare with the 2007 Cadillac DTS.
2007 Cadillac Escalade
Asking Price Range
$14,280–$27,344
Compare
2012 Chevrolet Tahoe
Asking Price Range
$19,711–$42,027
Compare
2012 Hyundai Genesis
Asking Price Range
$12,451–$24,687
Compare
2012 GMC Yukon XL
Asking Price Range
$22,962–$43,206
Compare
2016 Mercedes-Benz AMG CLA
Starting MSRP
$49,500–$49,500
Compare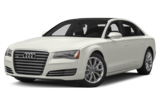 2013 Audi A8
Asking Price Range
$30,409–$54,265
Compare
Featured Services for this Cadillac DTS