Average Ratings
---
17 out of 22 people recommended this car.
---
Too many problems known by GM and they let them go
by LAST GM SUV I WILL OWN from Central NJ | June 30, 2015
The worst experience of any vehicle I have ever owned. THe ENclave purchased new was my 6th GM suv purchased new and will be the last. From day one this car had issues. Check engine light came on every three months till the day I got rid of it Every coil in the car was replaced at least once and most twice Power steering went just as warranty expired. I replaced rack and pinion and pump. Car went into Limp mode so I took it to the dealer. Dealer said you have transmission slipping . I was no I do not it just went into limp mode. they told me I was low on Trans fluid. I said you guys flushed it maybe you didn't refill. They filled it I took it back. Then a week or so later had radiator flushed and noticed it was brown. HMM! Whats leaking in radiator. Flushed it a few days later brown again. HMM Ok I know radiator and trans fluid mixing. Ah I figured it out not the dealer . So had radiator replaced. Year later trans starts slipping, Had trans rebuilt So I get recall about power steering pump and GM then reimburses that repair I did years before Then I get recall about trans issues but my car had too many miles on it so they would not reimburse even though the dealer could have prevented my issues if they knew what they were doing. So because I actually like the style, the interior the way the car road I kept it longer then I should have. All in all I spent about $10,000 to keep this car on the road. Oh year hydraulics on lift gate and hood had to be replaced as well. Breaks three or four tome tires three or four times etc... that is standard stuff Note I change my oil like clockwork and do reg maintenance to my vehicles I have had probably 20 new cars in my life never an experience like this one. I would say avoid this vehicle like the plague unless you lease and turn it in 3 years or prior. if you look on forums you will see all of these issues repeated from others. My car just had them all lucky me
Purchased a new car
Uses car for Just getting around
Does not recommend this car
---
Not made to last
by kc from Orange County, CA | March 6, 2013
I have really loved my 2009 Buick Enclave for the past 3 years. However, once we had the car for 3 years, it started having problems. I've been in the repair shop about every 3 months. Everything from blinker problems, hydraulic lift on back door, oil pan leak, light controls in the interior sunk into the dashboard, and front lamp fell in as well. Plus more. Fortunately most has been covered under warranty. But, come on! It's ridiculous. I don't have time to go and leave my car for a few days every 3 months. I just had my car in 2 weeks ago for maitenance and some repairs. It was there for 4 days while we waited for a part. and NOW my MALFUNCTION INDICATOR Lamp is on! UGH! It's one thing after another. Very frustrating. I only drive about 12,000 miles a year too. I bought the car straight out - all cash. I should have leased it because, clearly it was not meant to last more than 3 years. We wanted to buy American, but look what we got! I will NOT buy a Buick again. I've had it. I'm sticking with Toyota or Honda for my next car purchase.
Purchased a new car
Uses car for Transporting family
Does not recommend this car
---
Excellent Vehicle
by GM Fan from Manhattan, KS | January 15, 2013
I bought my 2009 Buick Enclave about a month ago; it had about 65K miles at the time. My spouse and I absolutely love this vehicle. The smooth, quiet, comfortable ride is unbelievable! We have already put several thousand miles on the car under both highway and city driving. We have not gotten as good of gas mileage as advertised though. So far, we have averaged between 17 - 19 MPG. It is supposed to get 24 MPG on the highway. Besides the gas mileage issue, we have been totally pleased. After reading numerous reviews before buying our '09 model, I recommend buying an '09 or newer (288 HP engine). The engine's power is certainly sufficient for interstate driving as well as passing on two-lane roads.
Purchased a new car
Uses car for Transporting family
Does recommend this car
---
First Buick
by First Buick from Evans, GA | December 18, 2012
This car drives so smooth and feels luxurious. This is my first Buick and it is not Grandma's car! I feel safe and the room is unbelievable. I wish there was a better cargo cover but other than that, I love it and so do my kids. I love the fact that it has a regular AC adapter in the back so you can put a wall charger and a regular car charger at the same time. You can also leave the car charger in while the car in not running. Helps when your battery is dying and the kids are using all other plugs.
Purchased a new car
Uses car for Transporting family
Does recommend this car
---
I Miss My Enclave!
by Car Nut from Chester, NJ | April 11, 2012
We had the Enclave for 3 years and put close to 70,000 miles on it in that short time. Multiple trips from NJ to Florida packed with wife, kids and Grandma. It was also our main family car, as the kids always demanded to take this car. We also used the trailer hitch A LOT to pull around a 4,500 lbs, 18ft, enclosed trailer and never had an issue - which was very impressive. We had to sell because we we now have a larger heavier trailer and needed a higher capacity tow vehicle.
Purchased a new car
Uses car for Transporting family
Does recommend this car
---
Love my Enclave
by LOVEMYENCLAVE from tx | January 16, 2012
I really wanted a vehicle similar to this for quite some time. Cross over style with third row seat. My husband and i test drove a few and this drives great. It honestly feels like a car. many of the crossover we test drove just felt really rough. plus it's beautiful. We were lucky enough to find a 2009 with excellent miles and a great package. i have a sister that has a fully loaded expedition and my not as fully loaded Enclave has more and better quality! I've only had it a few weeks so i pray it is as good to me as my small pre-family corolla was. So far though its great. LOVE MY ENCLAVE!!!
Purchased a new car
Uses car for Transporting family
Does recommend this car
---
very classy car
by Buick Believer from massachusetts | December 28, 2011
The car drives smooth and has a lot of power. Luxury and style inside and out. Very happy with this purchase. Dual moonroofs for passenger enjoyment. The kids love the dvd entertainment package. Captains chairs for easy access to the third row. Two tone leather interior. XM radio is a lot of fun. Only disappointing feature is the lack of carseat hooks in the third row.
Purchased a new car
Uses car for Transporting family
Does recommend this car
---
Not a road trip car for over 60 crowd
by Princess from Charleston SC | October 10, 2011
Like everything about this car, except after two hours our bottoms hurt. These are cheap seats in an expensive automobile. We like to travel but are going to have to sell the car and get something with some cushion. Our children say it's uncomfortable so it's not our age. The interior is nice and it looks good and hasn't given us any trouble, just uncomfortable on road trips. A five hour trip is misery. I'm sad I have to sell my car.
Purchased a new car
Uses car for Transporting family
Does not recommend this car
---
Our first Buick
by Dave from Western NY state | July 30, 2011
This was a tough choice for us, purchasing a domestic car that is. We have driven Subaru's for over a decade and couldn't have been happier. What changed? We just needed more room for grandkids, etc... After two Outbacks and a Tribeca we decided to venture out and test drive some larger vehicles, all wheel drive of course. We researched and drove the new Ford Explorer, Dodge Durango, Buick Enclave, GMC Acadia and Chevy Traverse. To our dismay we were really not impressed with the Explorer, maybe we should have found one fully loaded to drive, we only drove a basic XLT and thought it sounded and handled like a truck. The Durango even worse. The three GM products were all more car like in handling and much roomier. Without much thinking the Enclave just stood out for quiet ride and comfort. It is just so much nicer inside also. We ended up purchasing a certified pre-owned, first time we have done that. New the Enclave we wanted was $45,000 and we thought that was more than we wanted to pay. We found a similarly equipped certified pre-owned for $31,000 and couldn't be happier thus far. It is a CXL-1 with AWD and trailer tow package, plus lots of other goodies like heated leather seats, parking assist, second row buckets, etc... The Enclave is a real luxury car with a ton of interior room, a very roomy third row that even adults can sit in comfortably, very nice ride and looks great inside and out. We are really pleased with this car but cannot say how the all wheel drive stands up to Subaru yet because we haven't been through a winter with the car yet.
Purchased a new car
Uses car for Transporting family
Does recommend this car
---
Great SUV for hi school and retirement
by Gotta Go from Sugar Land, TX | May 1, 2011
Almost got through high school w/out a van or suv ... then our child joined the school dance team with the ensuing car pool for a ton of practices and performances. The seats are fairly comfortable though wide (no side support) and the head rest pushes your head downward at an odd angle. I use the inflatable lumbar bladder to change it to a more comfortable position. Interior is nice. Middle bucket seats conveniently and easily slide forward for 3rd seat access. Love that the middle bucket seats and their console, along with the third row split seat all fold flat for a HUGE cargo area ... when needed. The driving position is good though the pedals could be moved for improved foot/leg comfort (i'm 5'4"). Also like the hands free phone, nav system, and rear view camera.
Purchased a new car
Uses car for Transporting family
Does recommend this car
---
People Who Viewed this Car Also Viewed
Select up to three models to compare with the 2009 Buick Enclave.
2008 Toyota Camry
Asking Price Range
$5,486–$12,262
Compare
2013 Nissan Murano
Asking Price Range
$15,172–$28,340
Compare
2013 Volkswagen CC
Asking Price Range
$11,079–$22,563
Compare
2013 Toyota Prius
Asking Price Range
$12,050–$20,430
Compare
2007 Ford Fusion
Asking Price Range
$2,777–$10,029
Compare
2012 Honda Civic
Asking Price Range
$8,343–$16,815
Compare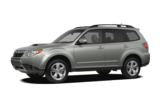 2010 Subaru Forester
Asking Price Range
$7,498–$18,042
Compare
2009 Nissan Altima
Asking Price Range
$5,285–$12,509
Compare
Featured Services for this Buick Enclave