Average Ratings
---
22 out of 23 people recommended this car.
---
2008 BMW 550 with 50K with zero problems
by so so from Norcross, GA | November 18, 2014
I love the car. I purchased it in 2010 used with 15K miles on it. I have 50K now as of 11/18/2014 I have only put gas in it and had the oil changed. The car has so much class. I have a Escort GPS radar detector and a laser jammer. It is the best car I have ever had and I am 50. It is not a car for in city driving but get this puppy on the highway and there is not better car. I will need to get the bake pads changed soon.
Purchased a new car
Uses car for Commuting
Does recommend this car
---
08 BMW 550i Sport
by 08 BMW 550i Sport from Southeast Florid | July 2, 2014
Love this car. Our second one. First one I bought for my wife after someone T-boned her in our 01 540. She decided it did not have enough back seat room for our sons so we traded it. She started missing it so we got another one. This time for me. The kid can ride their bikes. Great styling, awesome handling, great power. Only downside, it is a BMW and as such you gotta take it to the dealer if you have to get it worked on. Wear a helmet, it's expensive.
Purchased a new car
Uses car for Commuting
Does recommend this car
---
Sports Car for the Mature Guy?
by Mlab from MS Gulf Coast | April 14, 2014
I've driven Nissan Z's and Corvettes my entire adult life. Enjoyed those cars. Bought the '08 550i a year ago because the wife didn't allow me enough seat time in her 535i we had bought for her several months earlier. My 30-year-old son and I made the 250 mile trip to trade in the Lexus SUV and pick up the 550i. What a ride! We both thoroughly enjoyed the trip home. Fast forward to a year later, this car (fully optioned, except for cold weather package) puts a smile on my face every time I back out of the garage. It has ample power, luxury, handling and looks. The only drawbacks I can think of include bad cup holder design, lack of interior storage and the cost of any needed repairs and/or parts. I would advise anyone buying a used BMW to be sure to include a warranty with your purchase. I love driving this car; however, after driving the noticeably bigger 2011 550i I am seriously considering purchasing a "previously cared for" 2011. I had the occasion to drive a 2011 model for 2 weeks and really enjoyed the comfort level. This is my second bmw but probably not my last.
Purchased a new car
Uses car for Just getting around
Does recommend this car
---
great automobile
by egg from Pacific Palisades, CA | March 2, 2014
i bought a 2008 550i from my sister back in September of 2013. It had only 8,200 miles on it and was impeccably cared for. It had such low mileage because she had 3 cars. I have not enjoyed driving this much in a long time. I will say, it is NOT an automatic, it's a stick. Honestly, I believe that is what really makes this car a classic. It hugs the road truly better than any car i have ever driven before. I only worry about maintenence requirements and costs when the car is seasoned and has over 40,000 miles. That said, i drive about 450-500 miles per month or a maximum of 6,000 miles per year therefore giving me at least 5 years of shear pleasure. Amazing vehicle.
Purchased a new car
Uses car for Having fun
Does recommend this car
---
Great Car
by 550Fan from Charlotte, NC | January 1, 2014
I previously owned a 530xi and enjoyed the handling of the AWD, but not the engine and reliability. I got rid of that car and bought a Hyundai Genesis 4.6 V8. Well, that was less than 1 year ago and i just bought a 550 a few weeks ago and dumped the Hyundai. Couldn't be happier. You either like BMW or you don't...and accept what that gives you. The 550 is not great on gas...but ok...hate the cup holders of course...and expect to pay more that I want for maintenance...but when i sit in the car...the sports seats wrap around me...the engine has a low rumble to it...and it handles like no other in its price range...it's puts a smile on my face every time i drive somewhere...glad to be back in the BMW family.
Purchased a new car
Uses car for Commuting
Does recommend this car
---
Sporty yet Driveable
by Golfdog from Knoxville, TN | February 22, 2013
BMW 550i has a throaty V-8 with plenty of speed and great handling. It is not a comfort creature car as the seats are firm and the cabin is tight, but for a 4 door sports sedan it has plenty of leg and head room and fair size trunk space.
Purchased a new car
Uses car for Work
Does recommend this car
---
Great car!
by Car Nut from So California | April 3, 2012
After several weeks of looking around on line at numerous dealers and private parties as well, I found a 2008 BMW 550i sport package, nicely loaded with 42,00 miles so it is still under factory warranty. The car is phenomenal. The performance is seriously like driving a 4-door sports car. firm suspension, throaty exhaust that has to be heard to be believed. This is my 3rd BMW, as my other two were 3-series. Cars.com was a great tool in helping me save time finding the right car for me!
Purchased a new car
Uses car for Just getting around
Does recommend this car
---
Really nice car
by Cboe from California | February 1, 2012
An excellet car for the price, performance, styling, & comfort. Handles and drives really nice. Car is also excellent on gas for such a large powerful V8.
Purchased a new car
Uses car for Transporting family
Does recommend this car
---
550i Sport
by BMW Fan from Ann Arbor, MI | July 31, 2011
I've previously owned a '97 540i and and 2001 540i M-sport. The changes from those E39 models to the E60 550i Sport are tremendous, and mostly for the better. Ride quality and handling have both been improved, which is normally tough to do. I credit some of that to the 550i Sport having Active Roll control (amazing how flat this keeps the car in corners) and non-run-flat tires. Rear seat and trunk space have both been improved, keeping the 5-series on par with it's competitors. The 19" wheels and M5-style bodywork on the 550i Sport make the E60 body style look much better in my opinion, but it is still not what one would call a beautiful car. It is distinctive, just not a design that will be revered years from now. I could not afford a new 550, but the BMW CPO program is great and really makes it practical to get a great car for a great price. For the number of miles I drive per year (30K+) it really doesn't make sense to get a new car anyway, so why not avoid the first and second year depreciation and get an awesome car still under warranty and maintenance coverage? Other thoughts: The sport automatic is ok 95% of the time, but the other 5% it tries to be too smart for its own good. I'm sure my mileage would be better with a manual transmission, but E60 manuals with the options I wanted were very rare, so I settled for the automatic. Next time, I will try for a manual again. Active cruise control is surprisingly useful for stop & go traffic (and note it's not available with a manual trans). Logic 7 audio with USB connection is a must-have. Night Vision is neat technology, and it works, but it's luck if you happen to see a deer on the screen before seeing it in the headlights. Perhaps in heavy fog it would be more useful. Heads-up display is very nice to have, especially with the active cruise and navigation info displayed there too. I have the standard light-colored headliner, but wish I had the anthracite headliner option - should be standard with the black and natural brown interiors. Oh, and don't be scared of Active Steering either - it really is quite seamless in normal driving, but you really get spoiled with the quick steering at parking lot speeds. If you're considering a 5-series, I hope this is useful.
Purchased a new car
Uses car for Commuting
Does recommend this car
---
Love the V8
by Market St Joe from Illinois | June 1, 2011
I would like to start out by saying that this is the first BMW I've owned, I've been a Ford owner since 1977. Maverick, F250, Taurus SHO. What I like about the 550. Performance, for an everyday driver it moves fast enough. I have the sport package with the sport automatic. If you're in the market I recommend looking for one with these options. I test drove the stick and enjoyed it too but the auto is more practical. This is an M5 without the V10, I test drove the M5 as well and would have purchased it except for the fact that I only drive it to and from work. At total of 7 miles a day it's not enough to unwind the M car, it is very fun though. Overall I'm very satisfied with the 550i so far.
Purchased a new car
Uses car for Commuting
Does recommend this car
---
People Who Viewed this Car Also Viewed
Select up to three models to compare with the 2008 BMW 550.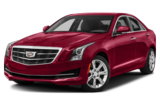 2016 Cadillac ATS
Starting MSRP
$33,215–$51,945
Compare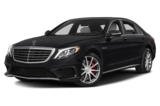 2016 Mercedes-Benz AMG S
Starting MSRP
$143,250–$234,050
Compare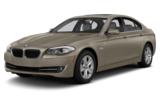 2013 BMW 528
Asking Price Range
$21,295–$36,007
Compare
2017 Cadillac CTS
Starting MSRP
$45,560–$70,430
Compare
2016 BMW 535
Starting MSRP
$55,850–$58,150
Compare
2016 Mercedes-Benz CLS-Class
Starting MSRP
$66,900–$76,600
Compare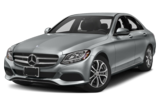 2016 Mercedes-Benz AMG C
Starting MSRP
$38,950–$73,250
Compare
Featured Services for this BMW 550