Let's make the point by word association: station wagon. Webster's--barely able to cork its enthusiasm--says it's an automobile with more cargo space than a comparable sedan, plus a rear seat that folds flat and a rear door hinged at any of four sides. Let's get serious. Station wagon: * Yards of tin stamped and painted to look like hickory ribs riveted to mahogany paneling. Given enough acid rain, the look matures to shelf paper around an Altoids box. After two seasons, your Young Woodie looks like Old Ironsides. * Twenty-seven children practicing handstands, two dogs and Mom, all waiting in line at Taco Bell. The woman is weeping, and one of the Labs is chewing on her cell phone. * Station wagons are cemented in memory as June Allyson, Doris Day or Jennifer Jones, waiting to meet Gig Young, Gregory Peck or Howard Duff, arriving on the 5:10 to Milford, Conn. A martini before your meatloaf, dear? * They most certainly were Country Squire, Parklane, Estate Wagon, Villager, Colony Park and other names bearing nuances of horse manure and penthouses. So where does the 1999 BMW 540i station wagon fit this history? It doesn't, except as a magnificent anomaly that flattens all our perceptions: that no mandate exists saying an automobile with more cargo space than a comparable sedan, plus a square bum and roof rails, can't play on the same street with Jaguars, Plymouth Prowlers, Aston Martins and up-market roadsters. Up to and including, at least in matters of initial acceleration, the Porsche Boxster roadster. Despite its apron and slippers, the BMW is America's fastest station wagon. If not for a speed-setting governor that restricts it to 135 mph, the 540i would be the world's fastest station wagon. The 540i wagon may look as though it has a performance envelope that includes six bags of ballast from Gelson's, but from standstill it hammers to 60 mph in a blink over six seconds. That's faster than the Mercedes-Benz SLK230 Sport five-speed and a clean match for the frighteningly quick Lexus GS400. It is certainly the only wagon since Country Squires and Colony Parks went away that has a 4.4-liter V-8 engine. It also is the only mover of things large and lumpy that offers 282 horsepower and 324 foot-pounds of torque. Surprisingly close to power numbers you get from a Corvette. * Yet there's nothing uncouth about this wolf in perambulator clothing. Linings that aren't glove leather are baby-soft velour. The dashboard is trimmed in Vavona redwood. All the BMW quality, luxury and suburban accessories are in place: a cover to hide cargo, a self-leveling rear suspension for working weekends, luggage nets, tote tie-downs, sunshades for rear windows, even a loading floor that doubles as a Veuve Cliquot table for the most elegant of waterside picnics. But what's this with low-profile, high-performance tires on 17-inch wheels and brake rotors the size of Hula-Hoops staring through the spokes? Trained eyes w ill lock onto maroon and blue stitching around the three-spoke steering wheel, with an "M" badge buried in the rim. It says the gig is up and that this station wagon has been given large gobs of BMW's famed Motorsports treatment. Not the Full Monty, mind you. Not full-blown M-Series engine enhancements. But certainly most of the modifications, including a sport suspension with firmer springs and shock absorbers. Ride height--and in turn the 540i's center of gravity--has been dropped almost one inch. With that almighty V-8, with a five-speed automatic transmission incorporating a manual sequential shifter, with stiffened suspension adding Super Glue to the car's cornering talents, it's all more than enough to create a rapid, silky machine capable of sly performance ranging from docile to mildly demonic. Such potential for absolute deception may even be worth its $55,000 sticker. * Of course, there will be public pondering of the purpose of a high-perform ance station wag on. It's a contradiction of terms, and a confounding of design and concept. But maybe the fun element is quite enough. For mothers who once saw the station wagon as a form of domestic relegation, the 540i will have them feeling they are romancing a hunk. For us hunks, there's much wicked pleasure in watching drivers of Mustang GTs and V-10 Dodge Rams thoroughly bemused by having their clocks cleaned by a station wagon. Especially if Mom is driving.
---
People Who Viewed this Car Also Viewed
Select up to three models to compare with the 1999 BMW 540.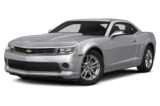 2015 Chevrolet Camaro
Starting MSRP
$23,705–$72,305
Compare
2016 Chevrolet Equinox
Starting MSRP
$22,600–$31,690
Compare
Featured Services for this BMW 540