Average Ratings
---
7 out of 8 people recommended this car.
---
Amazing AWD - Expensive Fix
by velvet2099 from Pittsburgh, PA | March 5, 2012
Wouldn't recommend picking up a 99 Audi at this point in its life. If you do, you'll be greeted by excellent features, design, engineering, and world-class Quattro AWD. Unfortunately, it is accompanied by rather expensive maintenance that becomes harder to justify late in the car's life. Any fixes other than routine maintenance commonly start in the 4-digit range. Otherwise the car is silky smooth to drive. Bits & pieces & features around the car are intelligently designed. Automatic tilting of the passenger mirror when in Reverse is something you still don't find on all luxury cars, 13 years later.
Purchased a new car
Uses car for Commuting
Does not recommend this car
---
1999 Audi A6 125k
by Audi Lover from Salt Lake City, UT | January 19, 2012
Great car and our fourth Audi in a mix of wagons and sedans in the A4-A6 range. The car handles well, tracks and traction in snow is excellent on road surfaces. Off road use is inappropriate due to reduced clearance. The only objection to the Audi line is the maintenance expenses. I totaled the maintenance cost for the first 100k miles @ $110/month which includes the 48month warranty period. Great to drive, but expensive to maintain.
Purchased a new car
Uses car for Just getting around
Does recommend this car
---
Best Car I have ever owned
by gossymoto from Southern Ontario, Canada | February 7, 2011
I Bought this car in 2003 with 128k (Canadian car so it's in kilometers). Did the timing belt at 180k and again at 360k and now at 430k and two teenagers learning how to drive, I am finally getting ready to put my baby to rest. This is a 2.8 Avant and it has never let me down. Smooth, comfortable ride, firm but luxurious. Even with any mechanical problems I have had over the years, this car has never left me stranded and nothing handles in the snow better than Audi's quattro system especially when you put winter tires on. As far as Audi standing behind their vehicles, at 200k I brought my A6 in for $2,500 worth of repairs. Things that seemed to work fine but according to Audi were part of various recall campaigns so they replaced them free of charge. Cons: The front suspension on this car provides incredible handling but it is very complex with many moving parts that wear and are not cheap to replace. I had several ball-joints and tie-rods done over the years. Valve cover gaskets can leak as well and although it's not a major leak, it tend to drip onto the exhaust manifold and you can smell it inside the car on occasion. Summary: At 12 years old and nearly half a million kilometers, this car owes me nothing. I have a list of repairs needed right now (due to my own neglect), such as cracked windshield, cracked exhaust (which is original at 430k) and a bunch of other minor things that tend to happen when new drivers are learning, scraping poles in parking lots and jumping curbs, otherwise I would just keep driving it.
Purchased a new car
Uses car for Commuting
Does recommend this car
---
One of the best wagons!
by Kenya from Placentia, California | July 2, 2010
The Audi Avant is a very purposeful vehicle for those who don't mind driving a wagon. It has the capacity to carry luggage for a family and it handles very well and looks good too.It also has a rear facing seat which basically means you can carry a total of seven people including the driver,though the rear facing seat is not meant for adults. It currently has 125K and still going strong. You have to keep it well maintained and has it has been very reliable. Thanks.
Purchased a new car
Uses car for Commuting
Does recommend this car
---
Solid Quality, Luxurious, Runs forever
by Family Dad from Philadelphia | March 26, 2010
Having leased 2 Audi's before this one, both of which still ran like new at 50K miles when I handed them back, i bought a 3yr old A6 Avant w 60Kmiles in 2002. I have had it for 8 years, put 80,000 miles into it and it still runs like the first day I got it. It is my wife's daily driver, which she has used to shuttle car-pool kids using the 3rd row, as well as her various architectural and interior building projects. The interior finish is superb, leather has really held up well, heated seats front and rear as well as steering wheel. Still no rattles or squeaks. The in-dash cup-holder did break, and we had to replace the hydrolics on the rear liftgate recently, but otherwize no complaints. Engine is really strong and smooth, gets about 19mpg in city driving and 24-26 on highway. Aside from timing belt change at 90k, have used local mechanic for all services - saved me a ton on servicing costs. Its important to keep tyre pressure high and alignment checked else the 4wd tends to work the front tires somewhat, but regular rotation is adequate solution. Snow traction of AWD is amongst the best there is - many times have I driven up steep neighborhood hills winding my way past other stuck so called 4wd vehicles (BMW, Lexus, Ford, etc.).
Purchased a new car
Uses car for Transporting family
Does recommend this car
---
Unbelievable value and quality
by Audi Faithful from Seattle Washington | May 9, 2007
It's no wonder Audis top the list for most positive stories in Automobile Magazine. Quality of materials and craftsmanship is 2nd to none. Handles like its on rails. Outstanding in the snow. Stereo system to die for. Very smooth and reliable engine. Not a rocket ship but plenty of power. I have a 97 wgn with 250k on orig. motor. Loving my 99 just as much. Change water pump and timing belt ever 90k. Keep up on the oil changes and you'll go for 300k.
Purchased a new car
Uses car for N/A
Does recommend this car
---
Reliable European family car
by Dimi from San-Francisco | January 18, 2007
I am a second owner, bought this A6 quattro 2.8L at 25kmiles in 2002. Now it has 85k at 2007. Hard stop-and-go driving. I had only one small problem with engine sensor. It cost a few hundred to replace it. Replacing the timing belt at 85k is a little expensive. I am using this car as a safe family car to drive with kids around. It is not a PORSH, but I don't need it for the family car. At the same time I have no problem driving at 100 mph+ on hwy5 between LA and San-Francisco for a 5 hours in a row. It feels safe and handles right. I like this car as family car a lot!
Purchased a new car
Uses car for N/A
Does recommend this car
---
1999 Audi A6 Quattro 2.8
by PCBenz from wichita, ks | July 26, 2006
This is the 5th Audi I have owned, the last three being quattros. The A6 style beginning in 1998 is truly an art form in design. The car still looks contemporary after seven years. The interior is rich looking, fit and finish is well above normal. The leather wears well and maintains its color, shape and softness. The engine revs happily to the 6,000 redline however, off the line performance could be improved. The increase to a 3.0 in later years probably solved that. The quattro system works well and only during sharp, slow turns on dry pavement does the quattro system let you know its there with a slight shudder. The best snow and ice performance requires a good snow tire to fully benefit from the quattro system. The car effortlessly cruises at triple digit speeds with a quiet and vibration free ride. Brakes work well with no fade. The climate control system works extremely well whether it is cooling or heating. The heated seats work great. The Bose sound system (Audi calls it Symphony) is one of the best I have heard with the in-trunk woofer able to rattle your neighbors. Engine cam seal oil leaks seem a common problem and were covered by extended warranty. Expensive if no warranty. Other repairs, cruise module, instrument display both replaced under warranty. I have found that it is best to have an Audi certified tech do work on your Audi. VW dealership tried and ruined more than they fixed.
Purchased a new car
Uses car for N/A
Does recommend this car
---
People Who Viewed this Car Also Viewed
Select up to three models to compare with the 1999 Audi A6.
2010 BMW 760
Asking Price Range
$29,655–$59,143
Compare
2000 Toyota Corolla
Asking Price Range
$736–$6,120
Compare
2015 Chevrolet Impala
Starting MSRP
$27,060–$40,660
Compare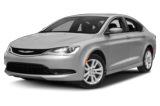 2017 Chrysler 200
Starting MSRP
$22,115–$31,785
Compare
Featured Services for this Audi A6