OK, it's confession time. I need to get something off my chest, something that some people might find strange and confusing. Here it is: I dig station wagons. That's not just a condition of middle age, though practicality certainly looms larger these days than it used to. No, I've always liked station wagons, have owned several of them, and just think they're kind of cool. Weird, huh? I'm not talking about behemoth nine-passenger wagons of yore, but trim, compact wagons. And these days, some of the best wagons are being made in Europe, where square backs are enjoying a resurgence. Volvo long has been the king of station wagons, but sporty BMW currently markets its Touring wagon for the horsy set, and Saab has just added a wagon to its latest lineup. Now comes Audi, fresh on the upswing with its fine new trio of sedans, A4, A6 and A8. This is a car company that has returned from purgatory, shrugging off the bogus "unintended acceleration" fiasco of the '80s and a mediocre product line, and bringing out a collection of vehicles of character and excellent road manners. The handsome, driveable and even affordable A4 1.8 T Avant (e.g, station wagon) was a road-test car that I really wanted to keep. It's the kind of station wagon that makes me dig station wagons. Audi calls it a sport wagon, which might seem like an oxymoron until you get behind the wheel. The little Avant drives and handles. Equipped with a five-speed stick shift and a surprisingly strong 1.8-liter turbocharged four, it scoots like a sports car. Sounds like one, too. Audi says it will go zero to 60 mph in 8.5 seconds, with the manual gearbox, which is pretty quick for a station wagon. This four is also smooth and quiet, with only a bit of four-cylinder boominess evident under hard acceleration. It does get a bit weak in the knees at low rpm, but not as bad as some other turbos. Shifting is smooth and precise. The A4 Avant also is available with a 2.8-liter V-6, at a slightly higher price. A five-speed also is available with the six, a rarity in this market, especially in a station wagon. Handling and cornering have the kind of Germanic poise and precision that driving enthusiasts crave. Steering response is quick, the ride is firm and athletic, and the body feels stiff and tight. A twisting back road becomes a romp. The test car also was equipped with Audi's famed Quattro system, one of the first all-wheel-drive setups for passenger cars on pavement. Electronically controlled to feed torque to whichever wheels need it, while sensing and compensating for slips and slides, Quattro provides finesse and security. The Avant has the kind of styling that accentuates its station-wagon body rather than hiding it. The rear has a rounded, modern shape that makes the Avant look like it wants to move. Speaking of moving, you can load some boxes back there, too, though the sloping roof and curving flanks take away some of the utility. Really, this is not the kind of wagon space available from Volvo or Mercedes-Benz, but should be enough for light duty. The A4 is a small car, and although the driver and front-seat passenger have plenty of space, rear-seat folk had better not be too big or too fussy. The interior in our test car was named terra cotta for some unfathomable reason, but it was very handsome and comfortable, with supportive seats and a good atmosphere. The dashboard is simple and well-designed, with easy-to-read gauges, but some of the switches and controls are hard to get used to. The stereo system has lost some of its fussiness, but operating it still involves a learning process. It's a good-sounding stereo and well-worth the trouble. Audi's downstream sibling, Volkswagen, also has released some sharp new wagons, notably the handsome Passat, this year. This is a bigger car at a lesser pric e, but it doesn't have the level of trim or performance of the A4. There's also an Audi A6 Avant wagon, a stylish craft at a premium price, that's bigger and brawnier than the A4. The A4 Avant confirms my faith in station wagons. It's certainly more handsome and pleasurable to drive than any minivan or sport-utility vehicle out there. 1999 Audi A4 Avant Vehicle type: Five-passenger, four-door station wagon, all-wheel drive. Base price: $26,440. Price as tested: $27,220. Engine: 1.8-liter turbocharged four, 150 horsepower at 5,700 rpm, 155 pound-feet of torque at 1,750 rpm. Transmission: Five-speed manual. Curb weight: 3,353 pounds. Wheelbase: 102.6 inches. EPA fuel economy: 21 city, 29 highway. Highs: Driving finesse. Handsome styling. Moderate price. Lows: Cramped back seat. Confusing dash. Turbo lag.
---
People Who Viewed this Car Also Viewed
Select up to three models to compare with the 1999 Audi A4.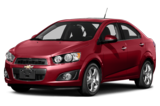 2014 Chevrolet Sonic
Asking Price Range
$7,967–$15,263
Compare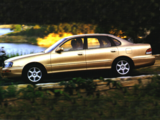 1996 Toyota Avalon
Asking Price Range
$712–$6,168
Compare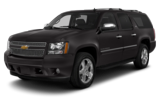 2013 Chevrolet Suburban
Asking Price Range
$23,787–$46,187
Compare
Featured Services for this Audi A4